Remember that, in Iran, many popular websites and services are blocked, including Facebook and WhatsApp. Sometimes they block this travel blog too. If you want to browse and use them while you are backpacking in Iran, you must get a VPN and the one I personally use is ExpressVPN, the most reliable one for Iran.
CLICK HERE TO LEARN MORE ABOUT ExpressVPN
A city of more than 3,000 years old which has been the heartland of Persian culture for millennia, Shiraz is a city filled with historical mosques and beautiful gardens.
Known as one of the most liberal cities in the whole of Iran, here you will find plenty of nice coffee places and a cool, young student atmosphere.
If you make the effort to hang out with the locals, I guarantee you that, if you travel to Shiraz, you are likely to have some local, home-made wine at someone's house or the chance to be invited to one of the secret parties Iran is famous for.
These are the reasons why I believe that Shiraz is my favorite city in the whole of Iran. I spent here nearly two weeks, as I was working with Key2Persia in order to promote Shiraz and the rest of Pars Province
The following Shiraz travel guide gives you an overview of what to see in Shiraz, as well as transportation, accommodation and a few more tips.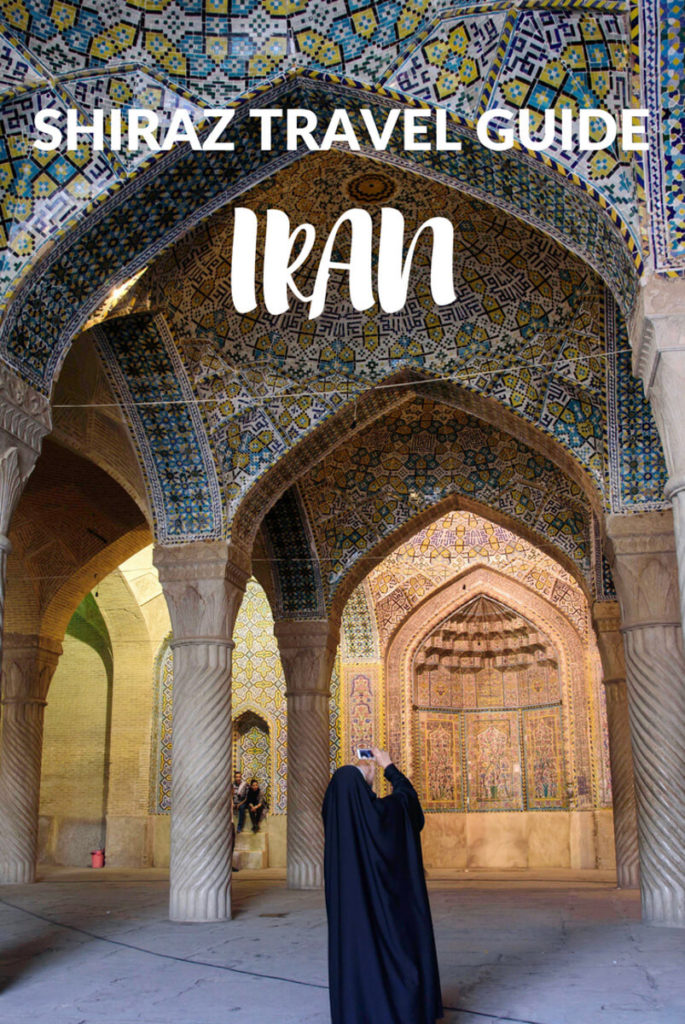 Shiraz Travel Guide – Things to do in Shiraz
It's mandatory to have a travel insurance to get your visa on arrival in Iran.
Because of the sanctions, most insurance companies don't provide coverage for Iran, but IATI Insurance does.
Get your exclusive 5% discount if purchasing via this link.
These are the top places to visit in Shiraz.
Things to do in Shiraz Map
Click on the image to see the interactive map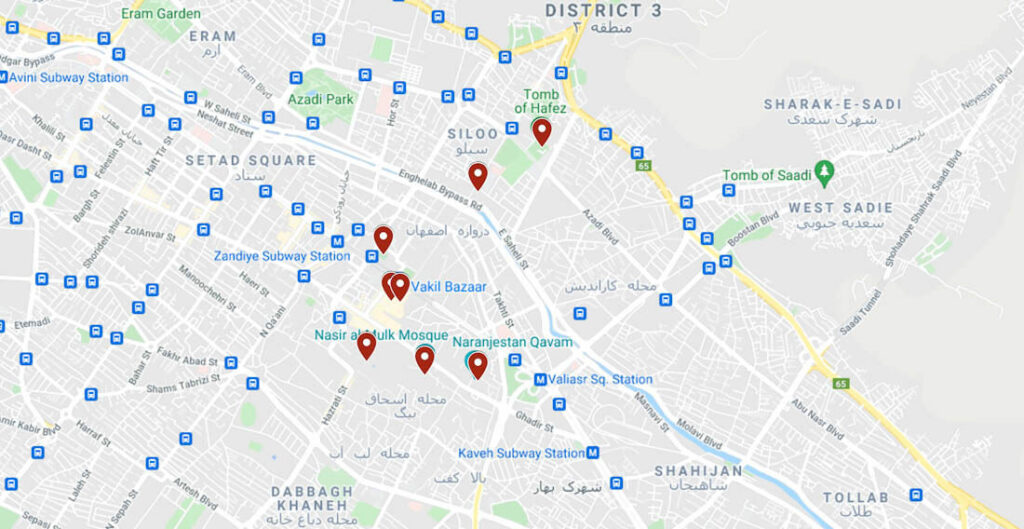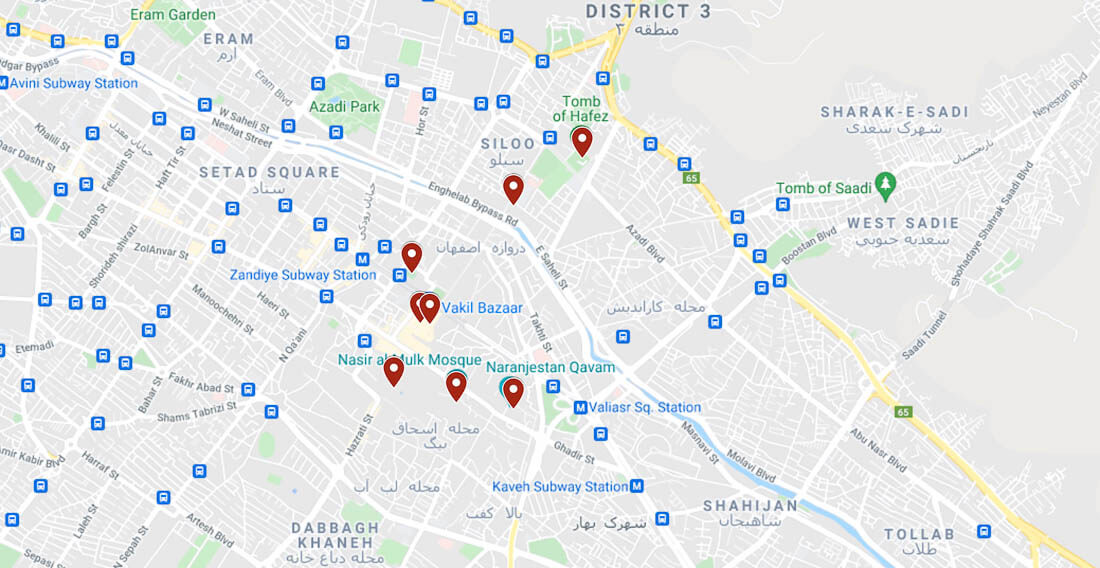 Vakil Mosque
Composed of an impressive courtyard, a praying hall of around 48 columns and sublime mosaics and tiled portals, Vakil mosque was built in the 18th century, between 1750 and 1773.
Like most tourist attractions in Iran, it is better to come at sunset time, when the light becomes optimal for photography and, at the same time, you get the chance to see it illuminated during night time.
The mosque, however, receives loads of local visitors every day so, if you wish to take a photo of the beautiful praying hall without people on it, you will need an extra dose of patience.
Price: 150,000IR (3.60USD)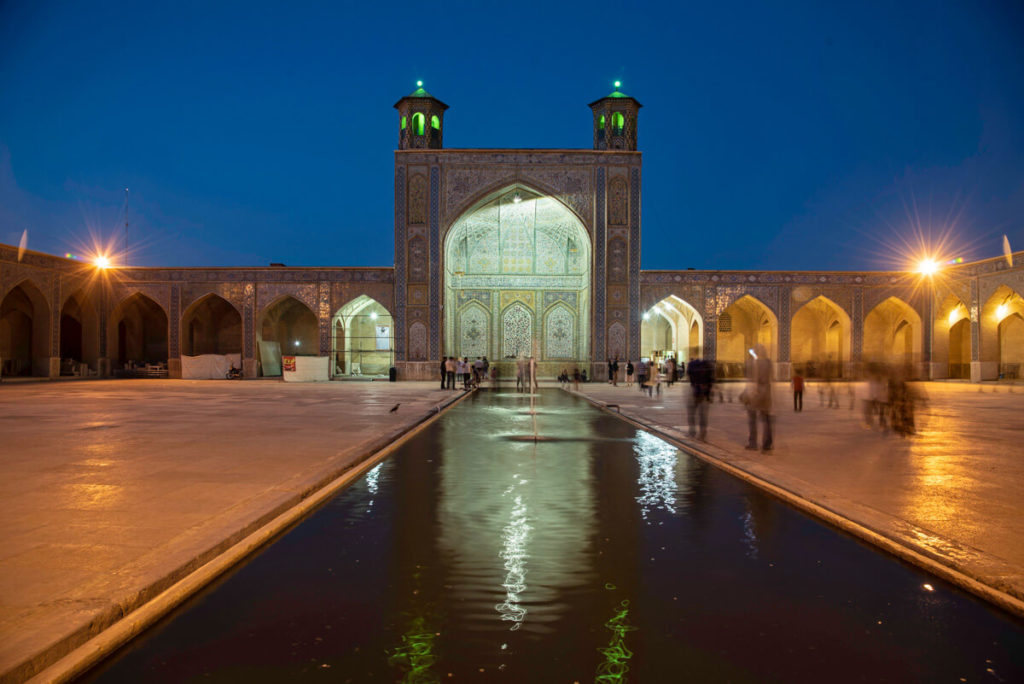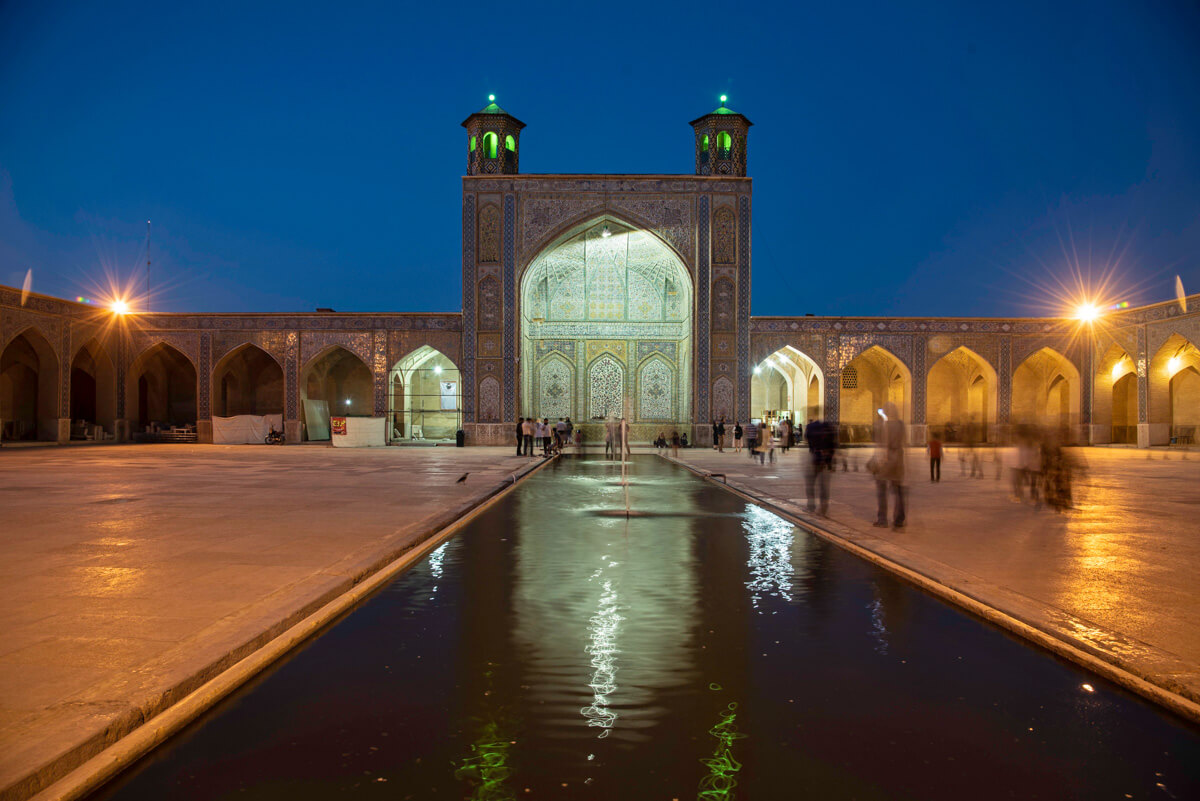 Naranjestan garden
Naranjestan is a garden which belongs to the Qavam House, a historical house and a clear example of how wealthy Iranian families used to live in Shiraz in the 19th century.
The house has today become a museum, where you can see wax figures, as well as paintings from the families that used to live here.
In my humble opinion, they are not very exciting, but you should come here to enjoy and see one of the prettiest Persian gardens in Iran.
Price: 150,000IR (3.60USD)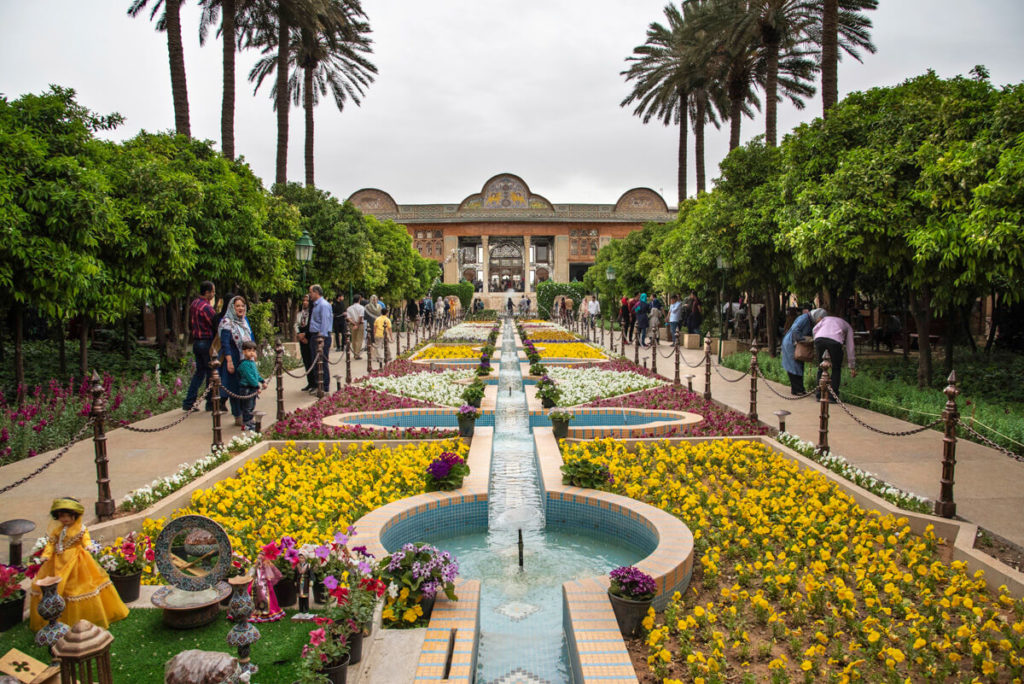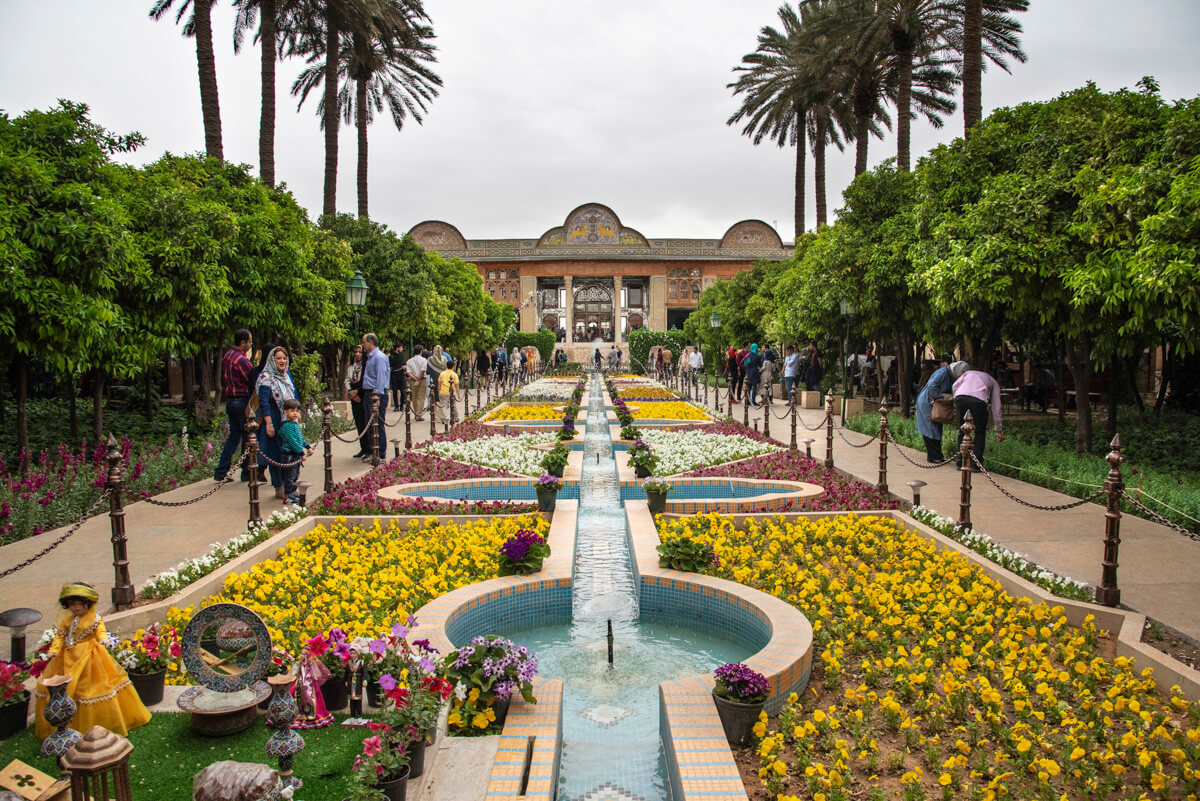 Shrine of Shah-e Cheragh
This is, seriously, one of the most impressive religious complexes I have ever seen and the most important shrine in Shiraz.
Here rest two of the brothers of Imam Reza, a Shia Imam who is buried in Mashhad, the holiest city in Iran.
The complex is a bit hidden and, when you enter, you will be thoroughly checked. You need to leave your bag at the entrance and big cameras are not allowed; but you can only take pictures with your cell phone. Probably, these are the reasons why not many tourists visit the shrine.
Normally, all foreigners would get a guide for free but, to be very honest, I didn't really like him, as he just showed me around very quickly and didn't say much about the place.
They claim that a tour guide is mandatory for non-Muslims but, if you insist, they will let you in by yourself. Bear in mind that some areas of the shrine are beyond non-Muslim boundaries, even though you can sneak in, as long as you don't look like a tourist and wander around without a guide. Definitely, this shrine is one of the best things to do in Shiraz.
Price: Free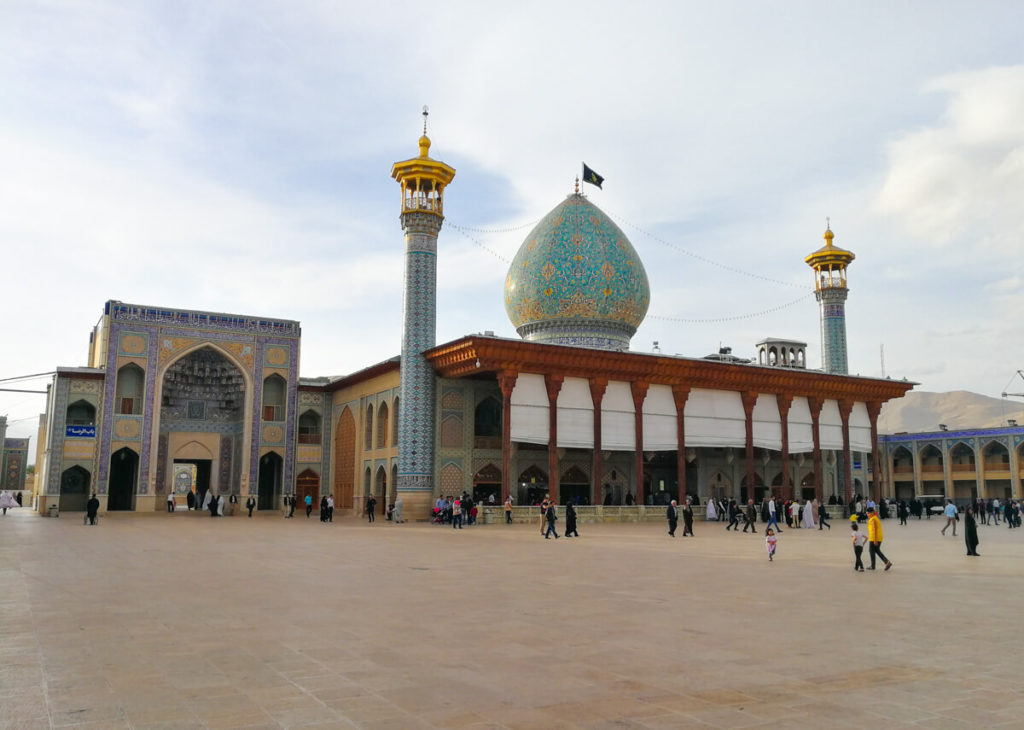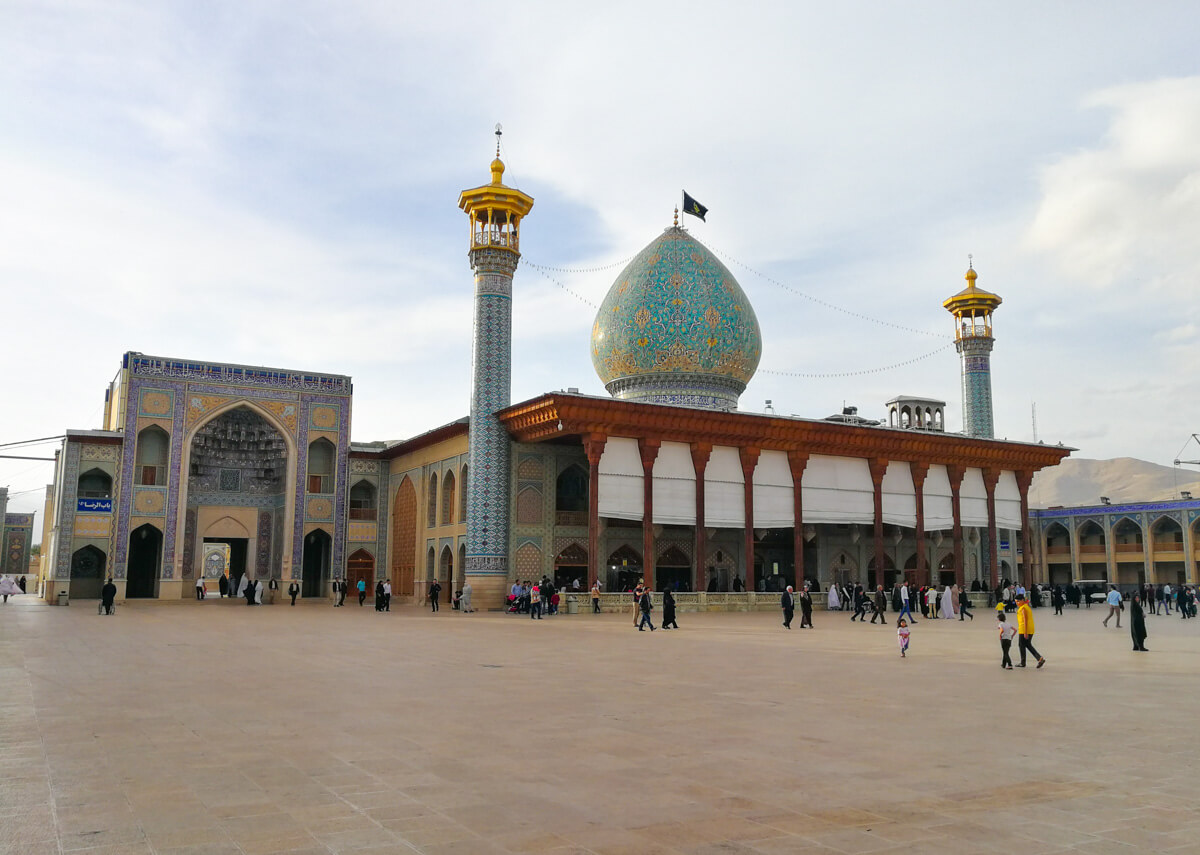 Shrine of Imamzadeh-ye Ali Ebn-e Hamze
Located just outside of the city center, this is a real off the beaten track shrine that not many people know about and where Emi Ali, a disciple of the 8th Shia Imam, rests.
The mosque seems like a small reproduction of the Shah-e Cheragh shrine, as the interior is also decorated with those peculiar mirror-mosaic-walls. Like most holy shrines, the entrance is free and, unlike in Shah-e Cherag, here you take in your camera and tripod without any problem.
Price: Free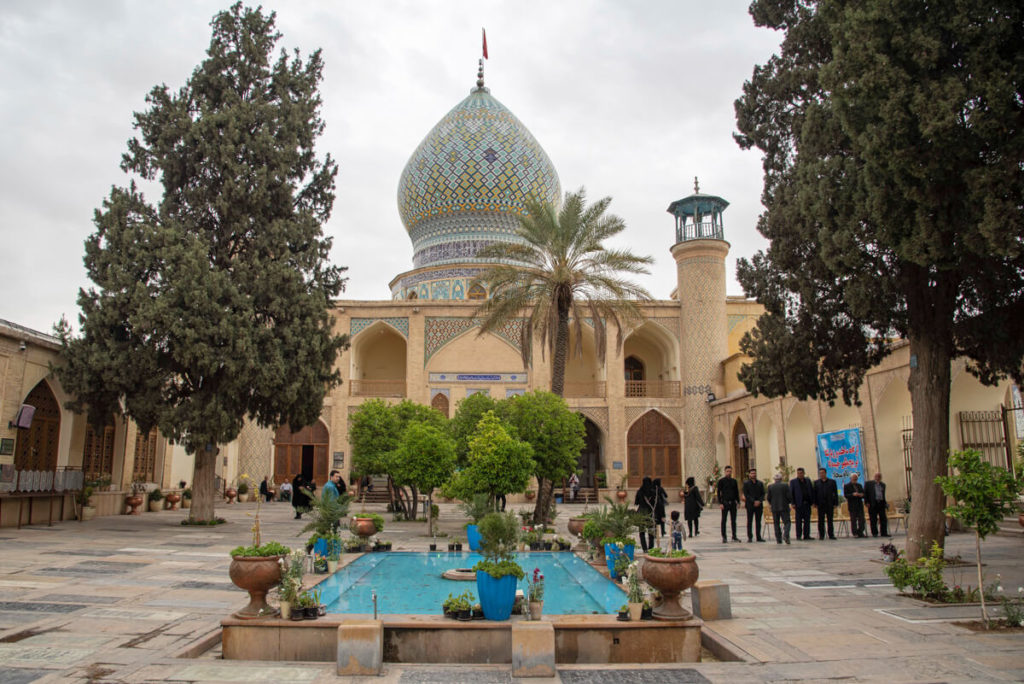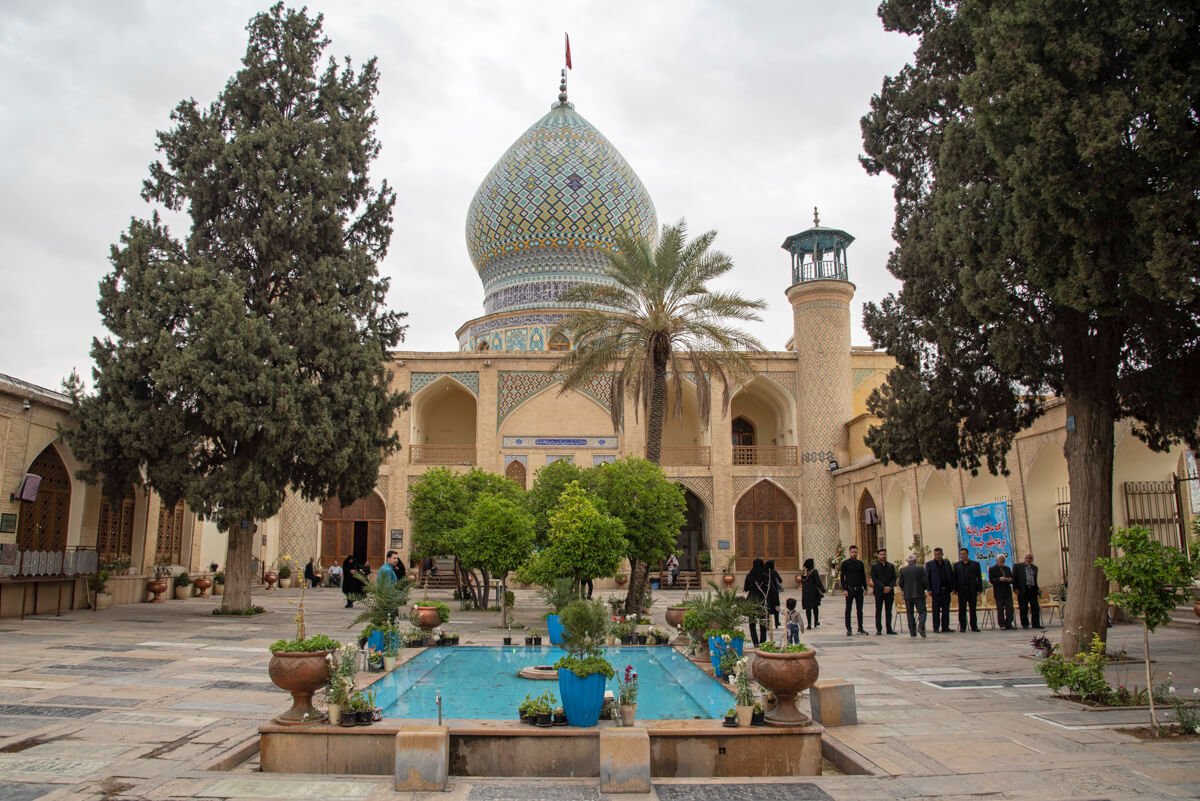 Persepolis
The top tourist attraction in Shiraz par excellence, Persepolis was the ceremonial religious hub (or ceremonial capital) of the First Persian Empire in the 7th century B.C.
By that time, the Persian Empire was the greatest in the world, therefore Persepolis could have been called the center of the world in that century.
Nowadays, it's an impressive ruined complex and one of the top touristic attractions you will see when you travel in Iran.
Persepolis is actually around 70 kilometers from Shiraz, next to a city called Marvdasht. You can try to go there by public bus, for very little money, but a one-way taxi only costs around 10USD.
Most taxi drivers will tell you to pay a round-trip and wait for you at the entrance for two hours. However, unless you get a super deal, there is no need to do this, as there are, literally, hundreds of taxis waiting at the exit of the site.
Just remember that Persepolis is a pretty ruined place, so having an expert telling you about the stories behind each stone is a significantly different experience. It costs 25USD and it includes transportation, entrance fee and tour. They leave every day early in the morning.
For more info, read: A guide to Persepolis
Price: 200,000IR (4.70USD)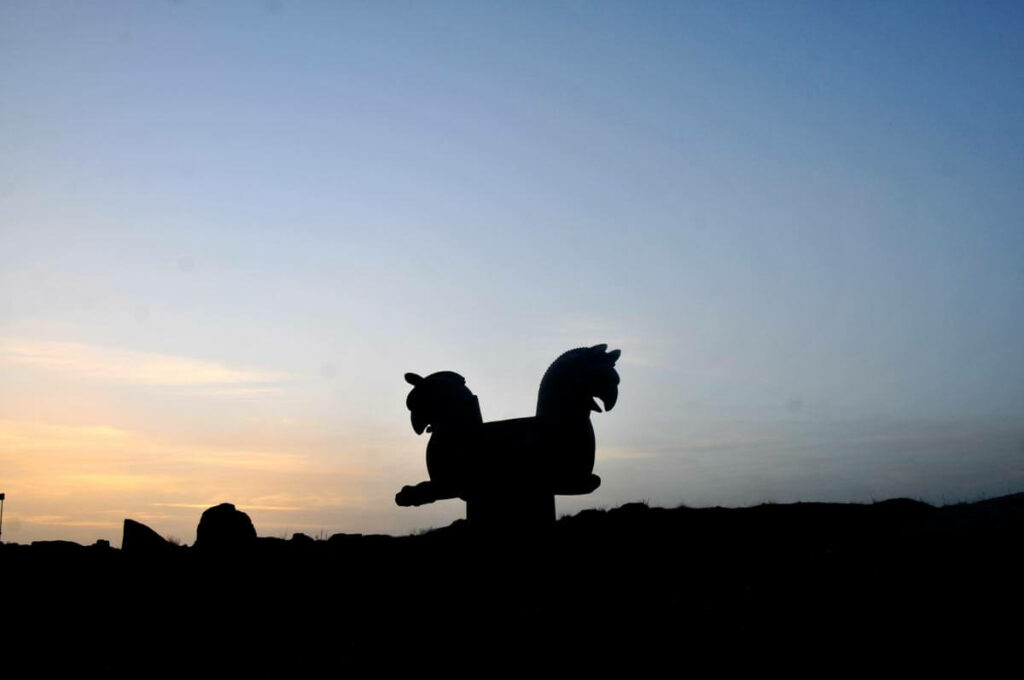 Vakil Bazar
For many people, this is one of the finest bazaars in the Middle East. For me, it's a great bazaar that dates from the 11th century, very impressive but I think that some sections are becoming a bit commercialized.
From caravanserais to bathhouses and over 200 carpet stores, this is a great place to take some nice street pictures after lunchtime, when the harsh sun of Shiraz is at its fullest.
Price: Free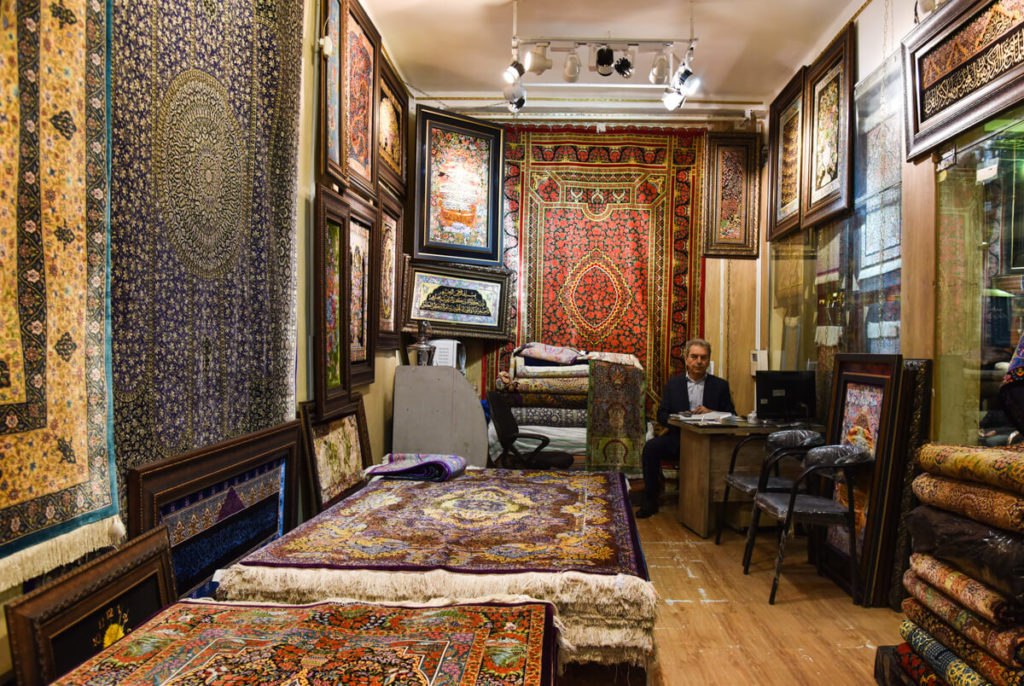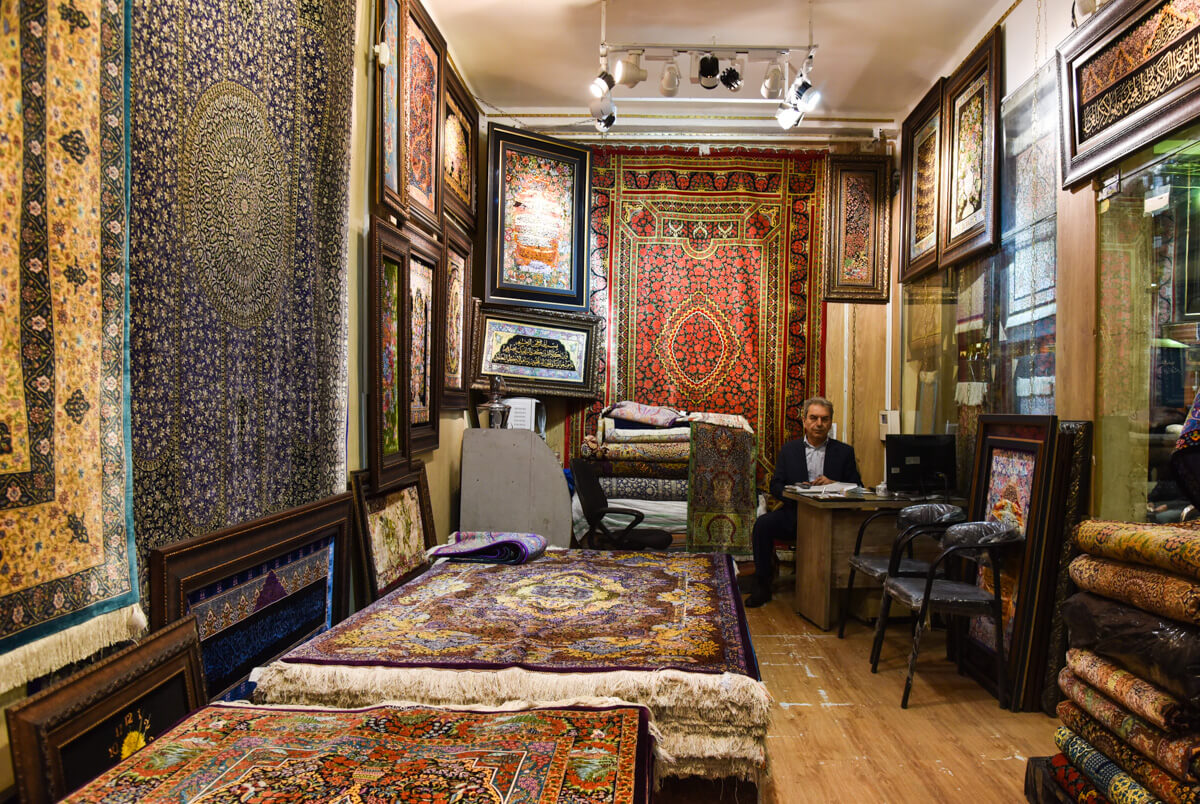 Nasir al-Molk mosque
This is, by far, the most photographed building in Shiraz and, probably, in Iran as well. At sunrise, the light goes through its colorful vitrines, creating a luminary, colorful effect on the carpet of the praying hall.
After sunrise, this is just a regular, not very exciting mosque, so given the high price they charge for entrance, I wouldn't recommend coming.
Try to be there just before sunrise as the mosque gets filled with tons of tourists, so you really want to get there first, otherwise is practically impossible to take a photo without people in it.
Price: 200,000IR (4.70USD)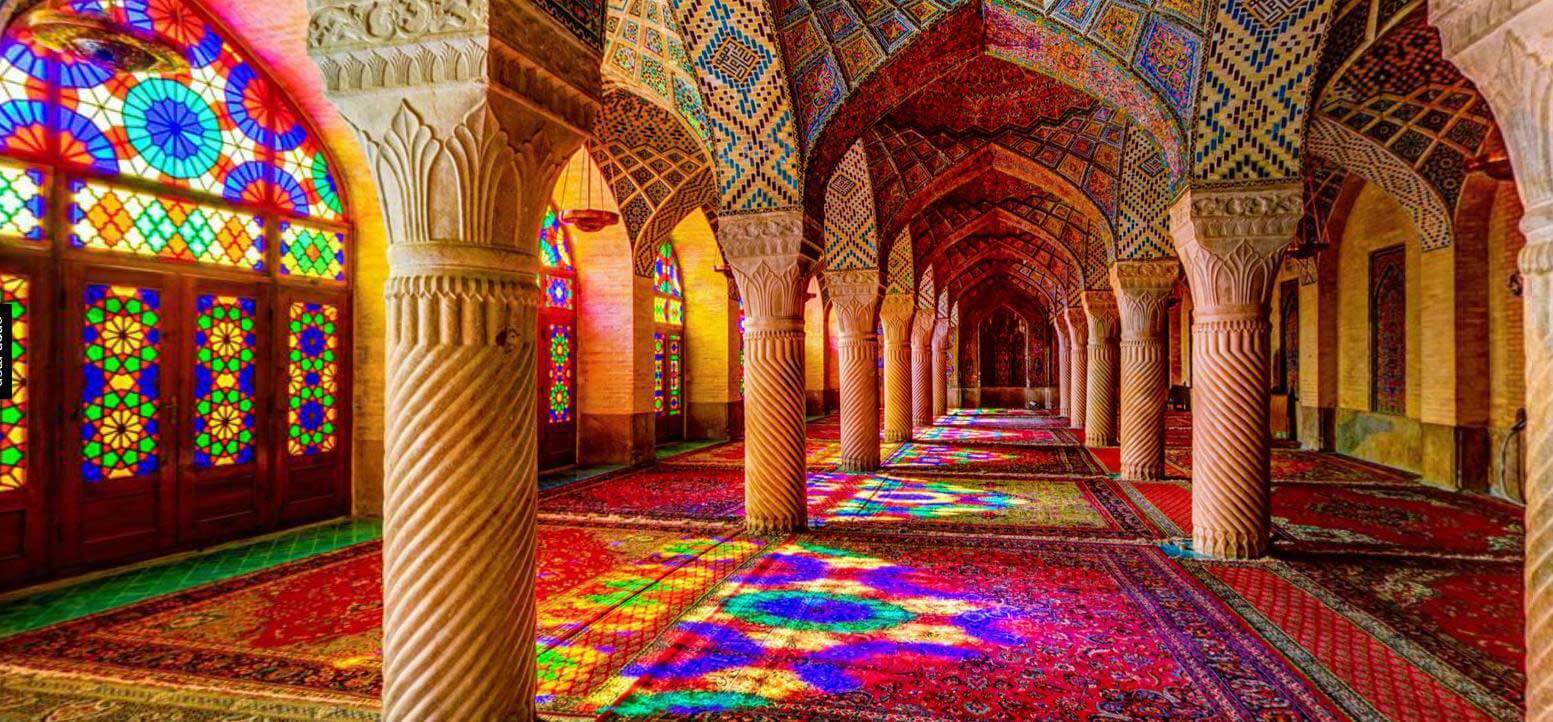 Hafez Tomb
I was very surprised that, in Iran, people have a real passion for poetry, including the young generation. I remember that, on a few occasions, when people found out that I was from Spain, they told me: WOW, I really like García Lorca. 
In case you don't know, García Lorca is a famous Spanish poet and the surprising thing was that they told me various facts which I had no idea about.
Anyways, Hafez is, perhaps, the most important Persian poet ever, a man who mainly talked about love and wine but also religious hypocrisy.
The Hafez tomb is where he is buried and local Iranians treat it as a pilgrimage site. Go there at sunset time.
Price: 200,000IR (4.70USD)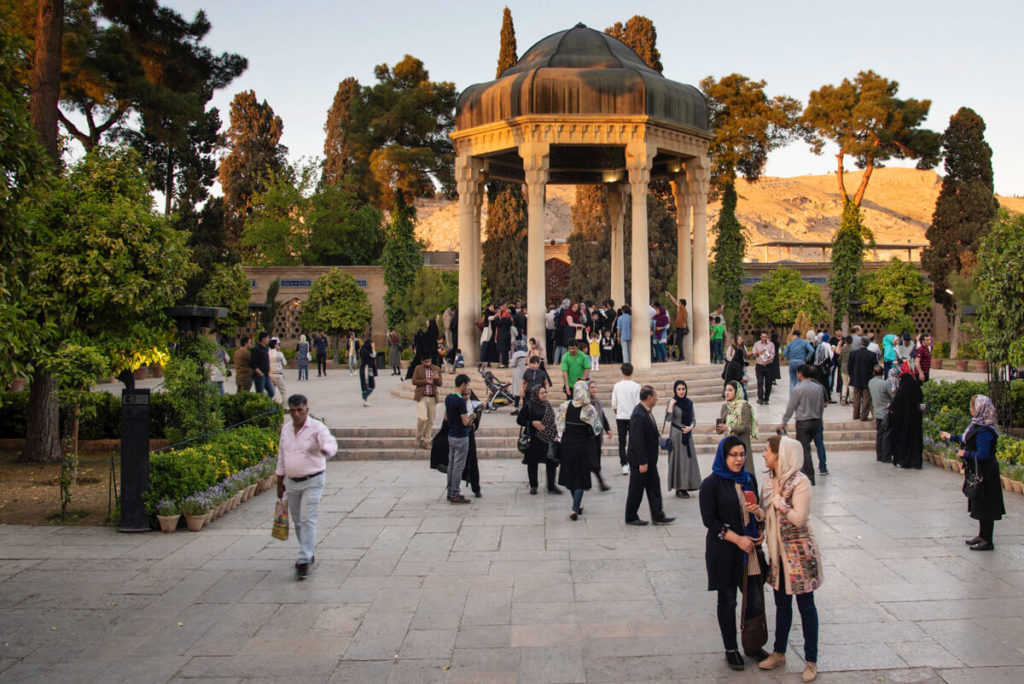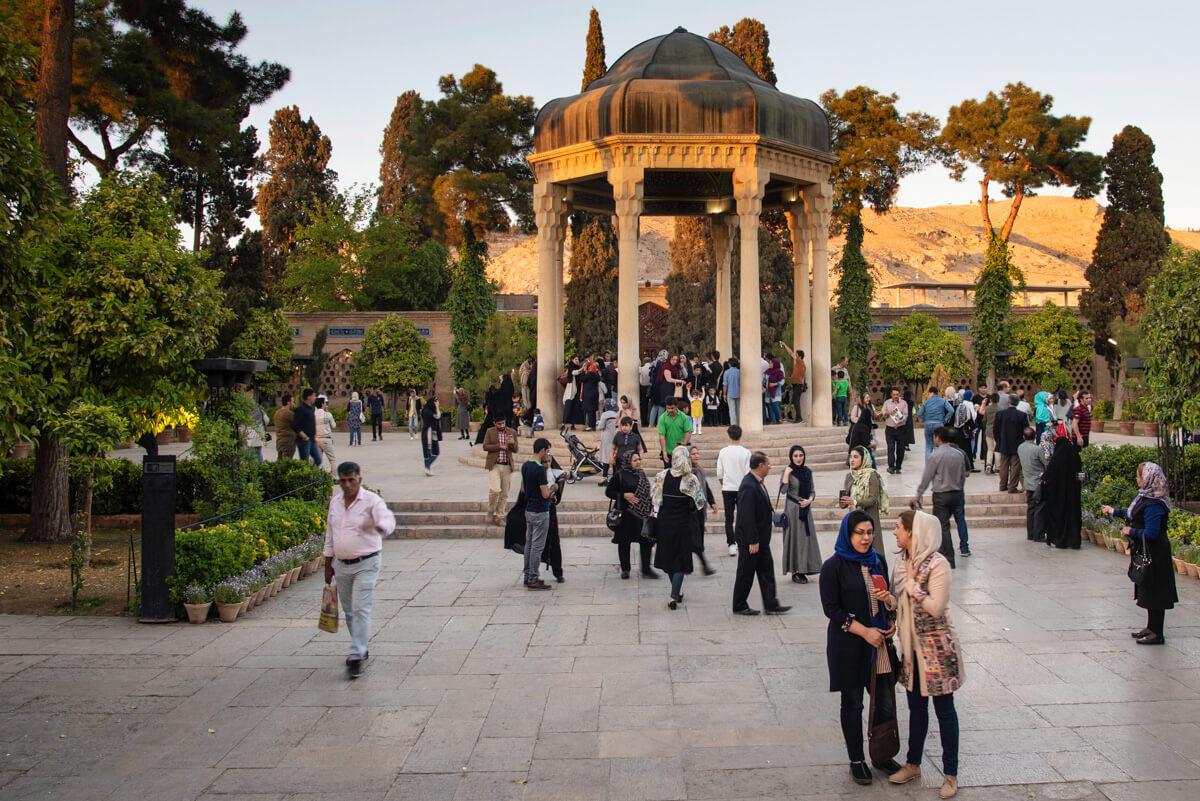 Karim Khan citadel
Named after Karim Khan, the founder of the Zand dynasty (18th century) and where he used to live for some time, today, this fortress is a real landmark in Shiraz, where all the Iranians come to hang around the beautiful, tall walls.
There is one tower which is, slowly, sinking into the ground, to the extent that it's perfectly visible. Inside the fortress, there is also a museum which, even though I didn't go, people say it's not really worth the money.
Price: 150,000IR (3.60USD)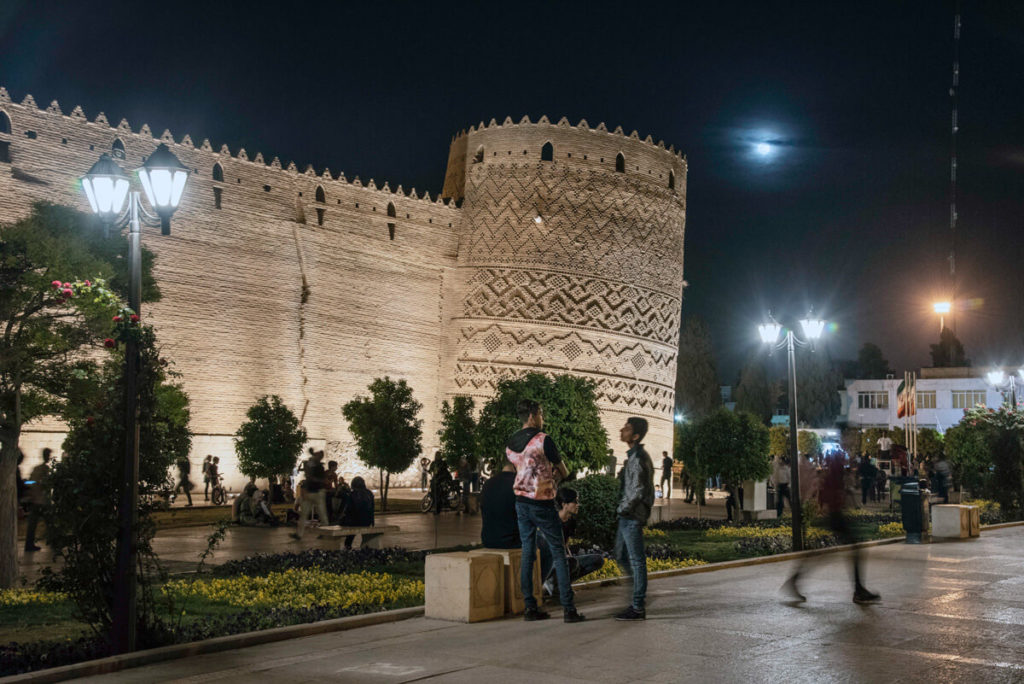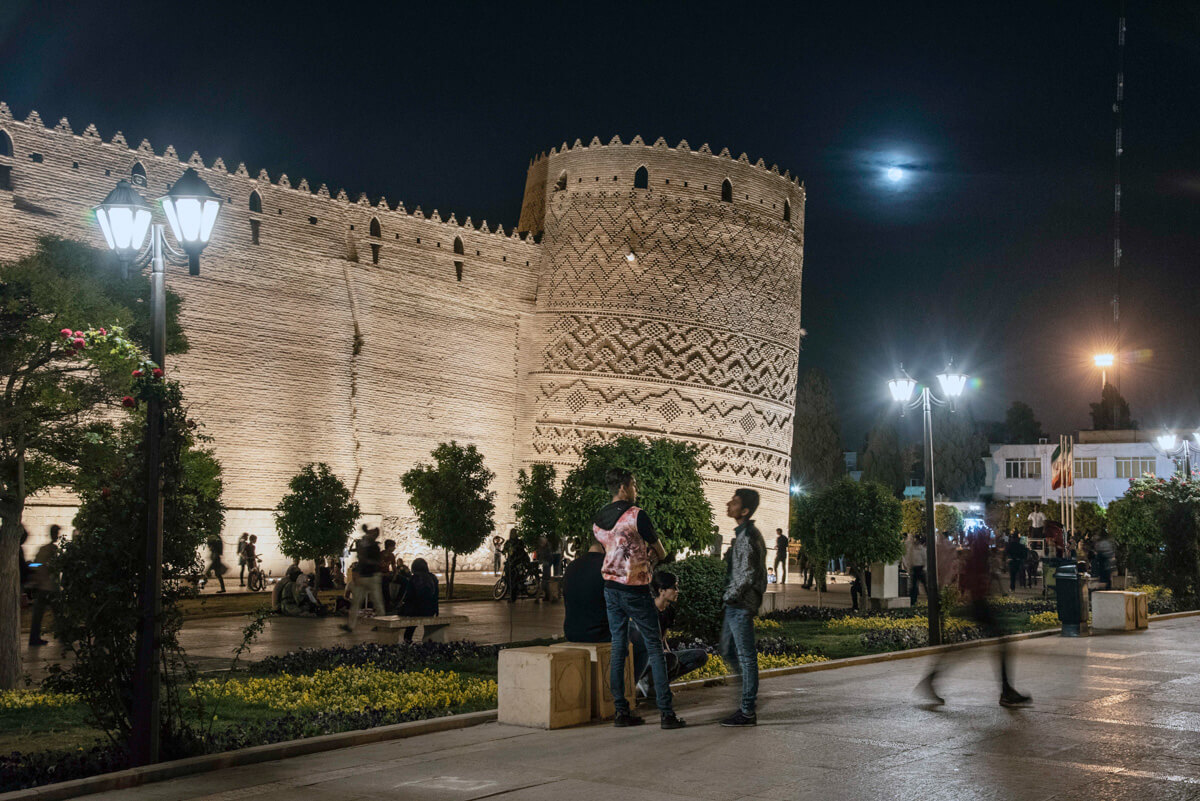 Where to stay in Shiraz
You can use my 5% discount code in all your 1stQuest bookings: ATC-QST
Backpacker Hostel – Taha Hostel – The only place for backpackers in town is a very well-located place that has a great traveling atmosphere and serves an awesome breakfast. Highly recommended!
Click here to see the latest prices
Boutique Hotel – Niayesh – The busiest hotel in town, where everybody stays, from backpackers to wealthy couples and tour groups. Located in the old city and composed of several ancient buildings, Niayesh Boutique Hotel has en-suite rooms, private and even a few dorms. Breakfast is included and it has several outdoor areas where to rest and order some food.
Click here to see the latest prices
For more options: Click here to see all the available hotels in Shiraz
How to move around Shiraz
It's mandatory to have a travel insurance to get your visa on arrival in Iran.
Because of the sanctions, most insurance companies don't provide coverage for Iran, but IATI Insurance does.
Get your exclusive 5% discount if purchasing via this link.
To be very honest, most sites are within a walking distance from the old city, so you should not worry about taking public transportation and taxis.
Only the Hafez Tomb is a little bit out of the way, but it's just 2 kilometers from the city center.
In any case, taxis within the city cost from 50,000 to 150,000IR (1.19 to 3.60USD). If they are charging you more than that, they are ripping you off. 
There is also a metro line but, as it doesn't go to any touristic site but just residential areas, tourists tend not to use it.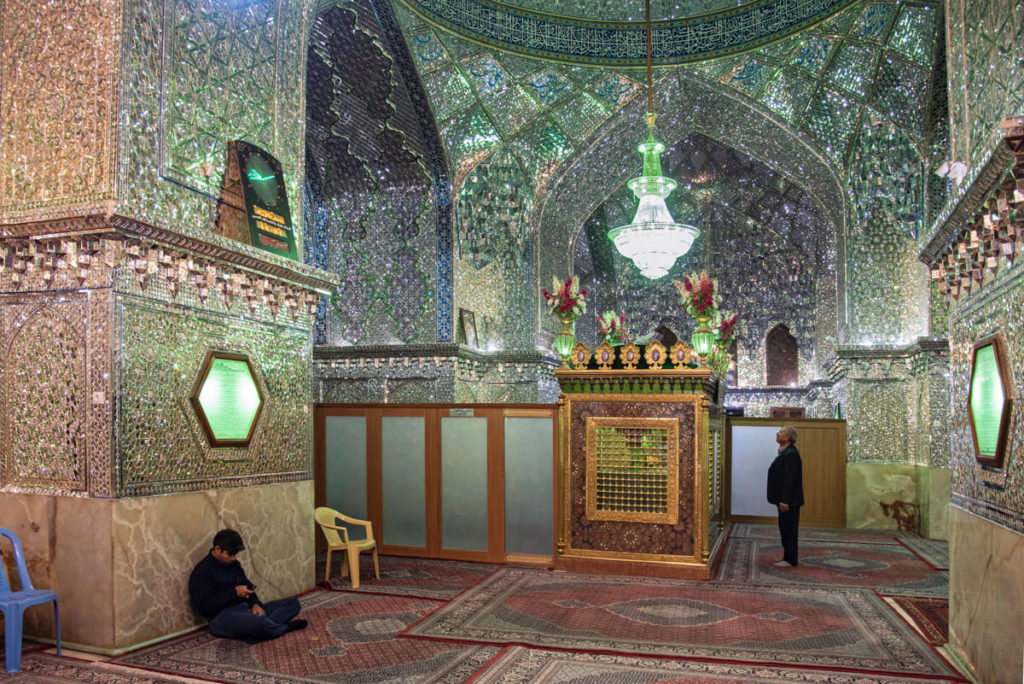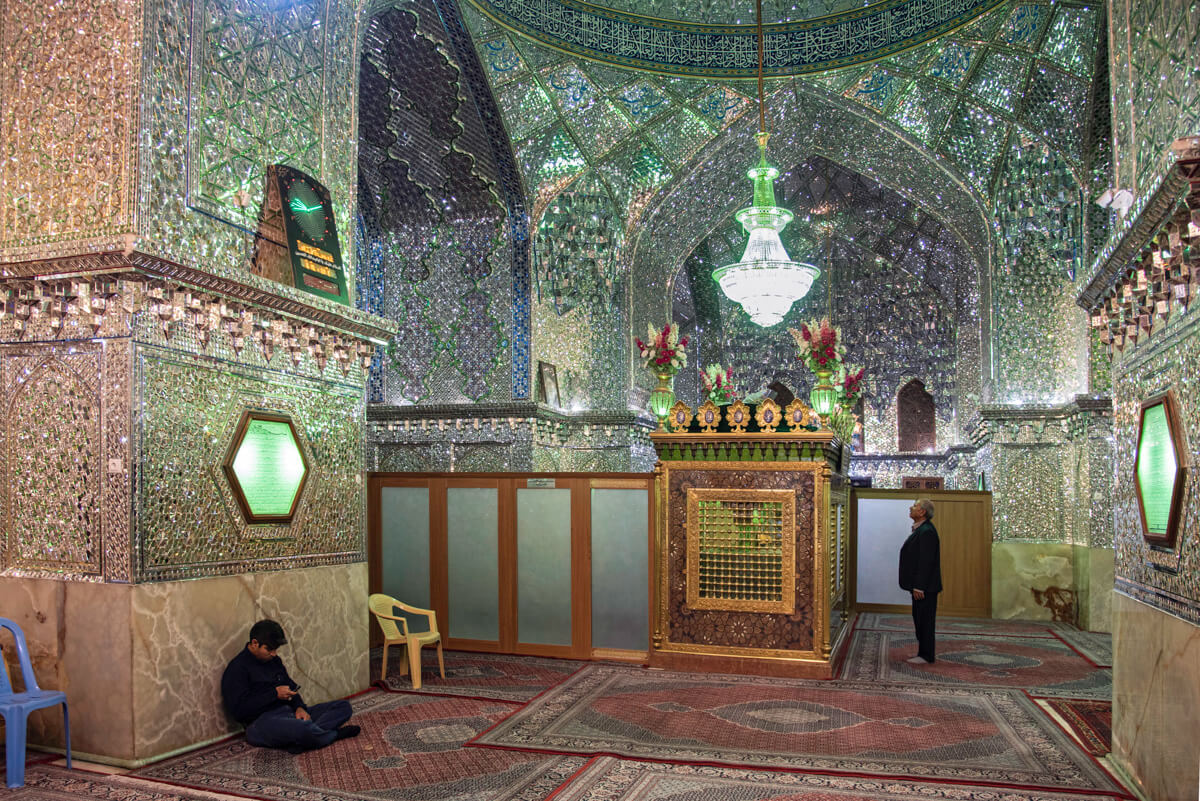 How to travel to Shiraz
By plane – Many people get a round-trip ticket to Tehran and then travel to Shiraz by plane to save time. Whereas this seems convenient, it is not that much actually. Shiraz has an international airport with very low fares for planes coming from Dubai and Istanbul.
Check out flights and prices and you may want to get a one-way ticket to Shiraz from your home country and come back from Tehran (or vice-versa).
By train – Unfortunately, you can't come by train from Esfahan or Yazd but you can come on an overnight train from Tehran, which will make you save some time.
More information for visiting Shiraz
Don't forget to check our travel guide to Iran.
As well as all our Iran articles: