How TravelPerk is helping to mitigate ongoing travel disruptions
Travel chaos is hitting the news headlines worldwide. Last minute flight cancelations and staff shortages have contributed to ongoing disruptions and traveler frustration.
Business travelers have also been caught up in the chaos. However, the 'show must go on', right? Business travel is essential and despite the challenges, you know that travel is key to driving company growth – you're not alone in thinking this. 
In fact, according to a 2022 Tourism Economics survey conducted in collaboration with the US Travel Association, 73% of executives consider business travel essential. 91% of executives said they would prefer to close a deal in person, even if it requires air travel. 
The good news is, business travel doesn't have to be a stressful experience, more than anything, these ongoing disruptions demonstrate how it's never been more important to choose an innovative business travel platform you can rely on to stay up to date and make changes whenever you need to.
Stress-free business travel with TravelPerk
The Tourism and Economics survey found that two-thirds of respondents felt 'alone' when handling things like flight bookings, overbooked hotels or lost luggage claims when traveling for work. However, with the right corporate travel solution, you won't be alone in managing your business trips.
TravelPerk is doing everything it can to help mitigate the challenges and frustrations of traveling for work, giving you ways to manage stress during business travel.
Here's how:
1. Continued improvements to our customer service
In contrast to other providers in the market, TravelPerk did not cut staff amid the coronavirus pandemic. In fact, we're adding more staff to our customer care team on a weekly basis! This equips us to better support you during ongoing flight disruptions, answer all of your travel concerns as efficiently as possible and ensures you experience our 7* service.
Support from a real human
Amid a spike in flight cancellations and last-minute travel changes, in the first instance, we have a customer service team that is available 24/7 via online chat, telephone, and email. This means that you can connect with a human being when you need travel help the most.  
We offer support whether you need to proactively make changes or you need assistance because of changes made by your travel provider.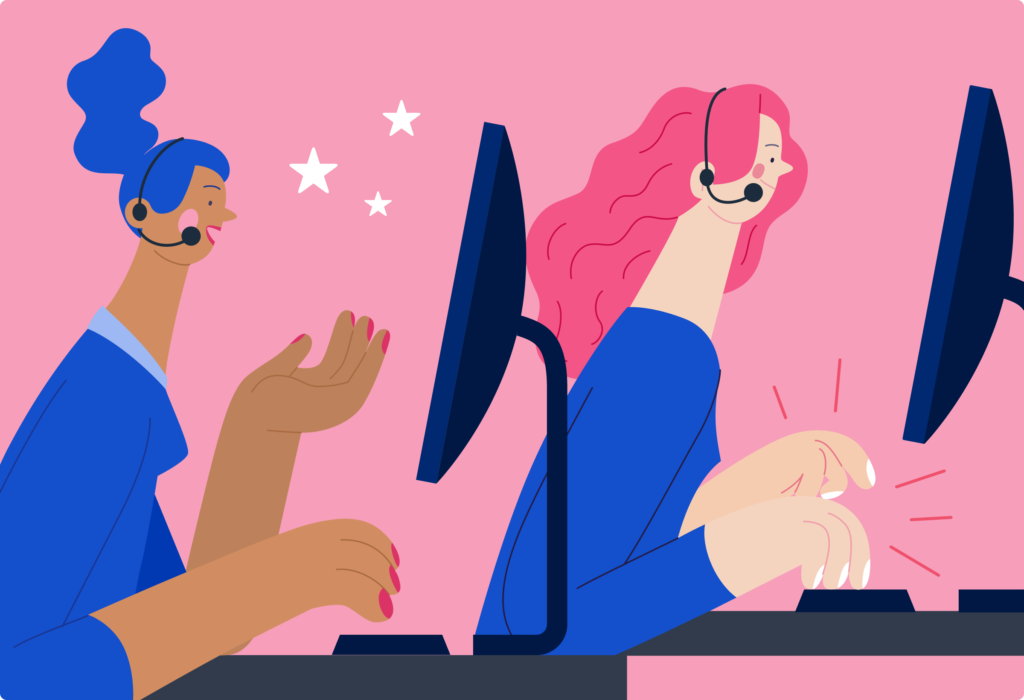 Improving our technical processes and app features
We're also making the TravelPerk experience more user-friendly by automating common customer requests. This means that you will benefit from a faster, more efficient response to general travel queries and our specialist agents can focus on any complex business travel issues that you might face.
For example, our automated processes can help you to quickly access support if a flight gets canceled, while making it easy for you to request trip changes or cancelations directly from our app in just a few clicks.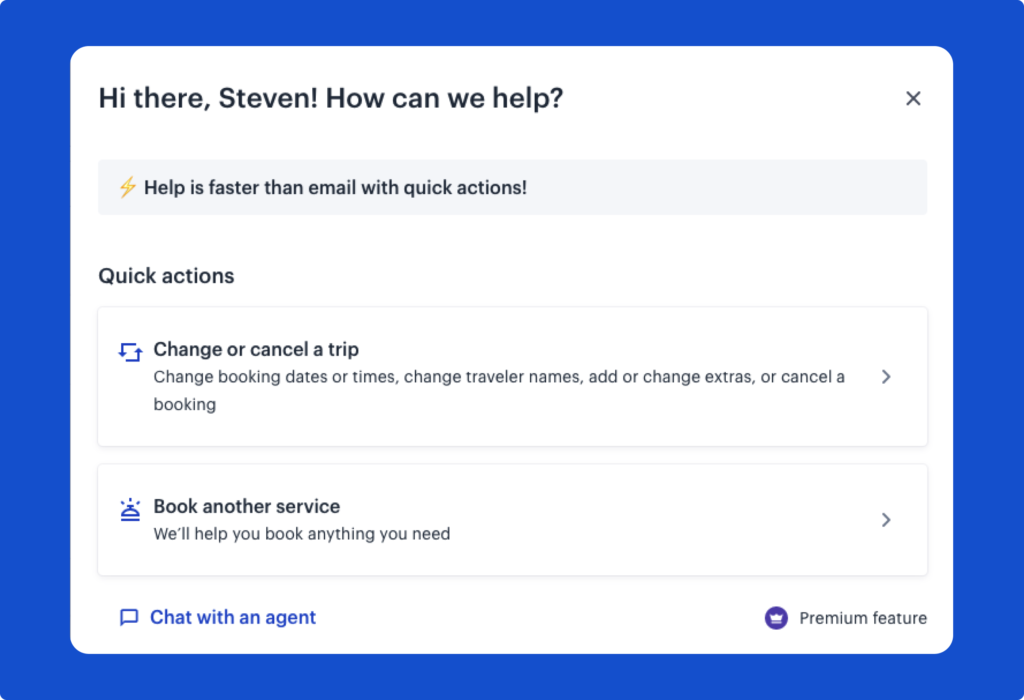 Plus, we're continuing to improve our granular policy and approval rules to allow travelers to book autonomously, while ensuring admins remain in control of their budget.
There are also plans to launch express approvals in case of changes to a trip booking, so any changes post-booking or in-trip modifications can be handled more efficiently.
The TravelPerk website and mobile app have an integrated flight status feature, which gives you the ability to track the status of your flight. The mobile app is especially useful because if you have notifications turned on, you will receive alerts if there is delay or cancellation to your booked flight.
FlexiPerk gives you the most flexible business travel ever. You can add FlexiPerk protection to your travel bookings, enabling you to book in advance – when flight fares are cheaper – and you can cancel your booking up to two hours before departure and get at least 80% of your money back.
FlexiPerk is ideal for business travel and managing stress because it can be added to single flights, entire trip bookings, or to all company bookings for added peace of mind.
3. The biggest selection of business travel options at your fingertips
TravelPerk offers the largest travel inventory on the market, which means you are never short of business travel options. You can quickly and easily check and book alternative travel solutions at short notice, whether it's a flight ticket, train travel, or car hire, the TravelPerk platform has got you covered.
4. Partnership with AirHelp
We partner with companies from around the world to expand our reach and the services we can offer you. One of the recent additions to the TravelPerk family is our integration with AirHelp –  the world's biggest air passenger rights organization, which helps you claim flight disruption compensation.
The integration with AirHelp enables them to use TravelPerk flight data to identify flights that are eligible for compensation. If you are affected by flight delays or cancelations, as a TravelPerk customer, AirHelp can process your claim for compensation.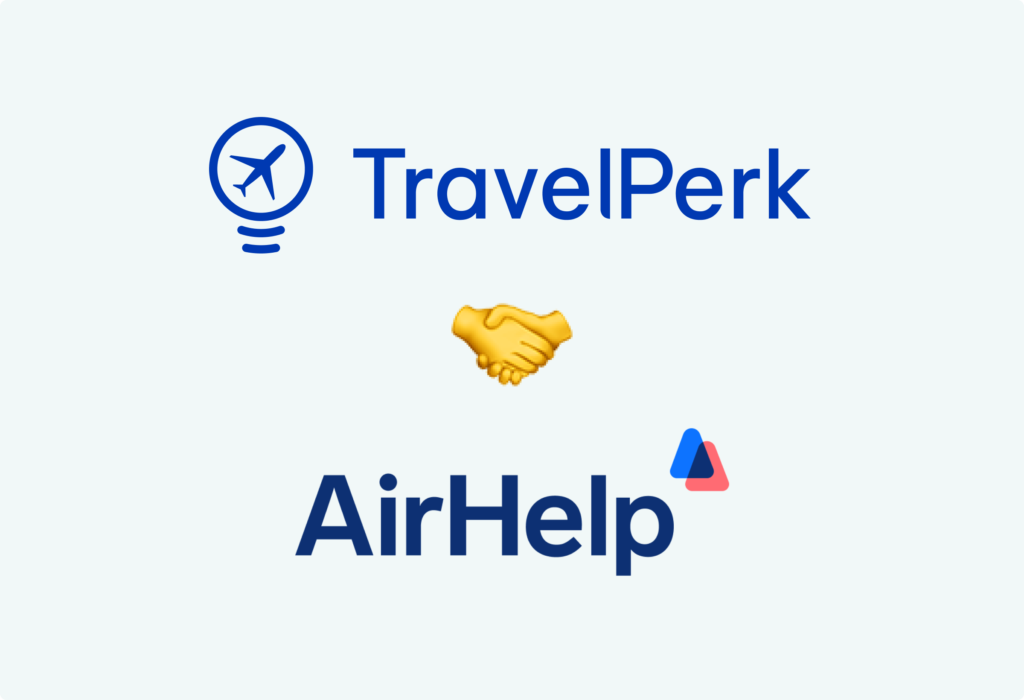 6 tips to help you stay ahead of travel disruptions
TravelPerk offers you many ways to manage stress during business travel, but there are other things you can do to improve your business travel experience, including:
Download the TravelPerk app – Adding the TravelPerk app on your IPhone or Android means that you can access flight updates on the go and quickly contact our customer service team 24/7 should you encounter any problems.
Check the airport and/or airline website – A day or two before you're due to travel visit the airport website from which you are departing or the website of the airline that you are flying with to check for general disruption updates and advice. If there is an issue, you still have time to plan alternative travel options with TravelPerk.
Choose an alternative route or departure airport based on current service status – If air travel is unavoidable for your business trip, then we recommend choosing an alternative route or departure airport if the one you are booked to fly from is experiencing disruption.
Travel with hand luggage only – Traveling light means you won't have to check any additional bags and you can keep your luggage in the flight cabin. This means no waiting at the luggage carousel once you have disembarked, plus it reduces the risk of your luggage getting lost.

💡Hint: Make sure you check that a full size cabin bag is included in your airfare, so you know that it's not just a backpack or handbag that you are allowed to take on board.

Upgrade to priority boarding – To avoid extensive airport queues and to board your flight in good time, we advise paying that little bit extra for priority boarding. There's no better way to manage stress during business travel than to get on board and get yourself settled ahead of your flight.
Get to the airport in advance – Depending on your departure airport, it's best to get there 2.5 – 3.5 hours in advance. Getting to the airport early allows you to retrieve your boarding pass, find your gate number and get through airport security checks well ahead of your departure. You can then relax, get a bite to eat, grab a coffee or explore duty free shops knowing that you are ready to travel.
See how TravelPerk makes business travel stress free