Coyote Buttes South – An Alternative to the Wave
Last updated:
We were like most people, disappointed that we didn't win the lottery to visit the Wave. We did score a permit to visit South Coyote Buttes instead and in hindsight, I think it was the better option. Coyote Buttes South is unique, visually stunning, remote, almost deserted, and there's a lot of interesting terrain to explore. It is the biggest and most colorful place in the entire area, far surpassing Coyote Buttes North in both size and variety of formations to ooh and aah over. And it's way easier to score one of the 20 spots drawn daily from the lottery. 
Both South Coyote Buttes and Coyote Buttes North are in the Paria Canyon-Vermilion Cliffs Wilderness at the bottom of south-central Utah and the top of north-central Arizona, south of Highway 89. Most people drive from either Kanab, Utah or Page, Arizona to access them. However, it's almost a 2-hour drive to reach the trailhead from Kanab, so you must allow a full day to visit Coyote Buttes South!
This post includes some affiliate links. If you make a qualifying purchase through one of these links, I will receive a small percentage of the sale at no extra cost to you. Thank you very much for your support.
Coyote Buttes South summary
There are two ways to apply – via the new Daily Lottery or via the Coyote Buttes South advance permit calendar. Read the full details in one of the sections below.
There are a maximum of 20 people that can visit on any given day.
Coyote Buttes South is in a different area than the Wave and requires a different permit.
Unless you have a high clearance, 4X4 vehicle and you know how to operate it, plan to hire a guide. 
Spring (March, April, and May) and fall (September, October, November) are the best times to go. Winter can be pretty if you time it right but if it's wet the driving is impossible. In summer, the temperatures can be in the 100ºF or 38ºC range.
Take lots of water, sunscreen, and a sun hat. Some people might like poles.
Make sure your camera batteries are charged, and you carry an extra one.
Information for visiting Coyote Buttes South
Location: Vermilion Cliffs National Monument, Arizona
Mileage: It's going to be up to you as its more about exploring than hiking; no trail markers but count on a minimum of 3 – 4 miles if you visit only the Cottonwood Cove area
Elevation gain: A few hundred feet at most if you visit from the Cottonwood Cove area
Time: Allow 3 – 4 hours to explore Cottonwood Cove; add another few hours if you want to visit the Paw Hole area
Cost: $9 non-refundable reservation fee plus a non-refundable recreation fee of $5.00 per person and per dog. Everyone, no matter what their age, must be included in the permit. Count on at least $US200 (+tip) per person if you go guided.
Difficulty: Easy to moderate depending on your fitness level and how much hiking you do
Overall rating: Premier; a must-do experience if you're in the Kanab – Page area 
Dogs allowed: Yes, on the permit but use common sense and don't bring them with you in the heat of the summer.
Location map 
Getting a permit to visit Coyote Buttes South
There are two ways to get a permit, and that has just recently changed (fall 2022) with a lot of the tour companies very unhappy with it as they feel it's a money grab.
No matter how you decide to get a permit, you will need to set up a Recreation.gov account to participate in the lottery. There is a non-refundable $9.00 lottery fee required for each lottery application! "Permits are distributed through the new Daily Lottery (the walk-in lottery is gone), two days ahead of the permit date, or through the Coyote Buttes South advance permit calendar, which opens three months ahead of the permit month."
Also note that – "there will be no change or modification allowed to permit dates, applicant name and group size following the application process. The only way to modify these details is to cancel the first application and submit a new one, which will require an additional payment of the $9.00 application fee. If the primary permit holder cannot make the trip on the permit date and is not present, the permit is invalid."
"Application submissions to the Daily Lottery are limited by a geofence. To apply, a group member must be within the geofence (see the map on this page) during the application window of 6:00 AM to 6:00 PM, two days before the permit date. The lottery is held daily." Note that the new Daily Lottery is ONLY available via a mobile device. Either visit Recreation.gov or install the Recreation.gov app. 
They also warn that "There are multiple steps and deadlines to be aware of: submitting the application, accepting the lottery, and picking up your permit. Missing any deadline will void your successful permit award. Carefully review the chart under Important Dates to see details concerning time zones. 4 WD required."
Another issue to be aware of is if you are selected, you will need to log into recreation.gov to accept and pay. Then you need to return to one of the permit offices the following morning, to obtain permits and attend the mandatory safety briefing.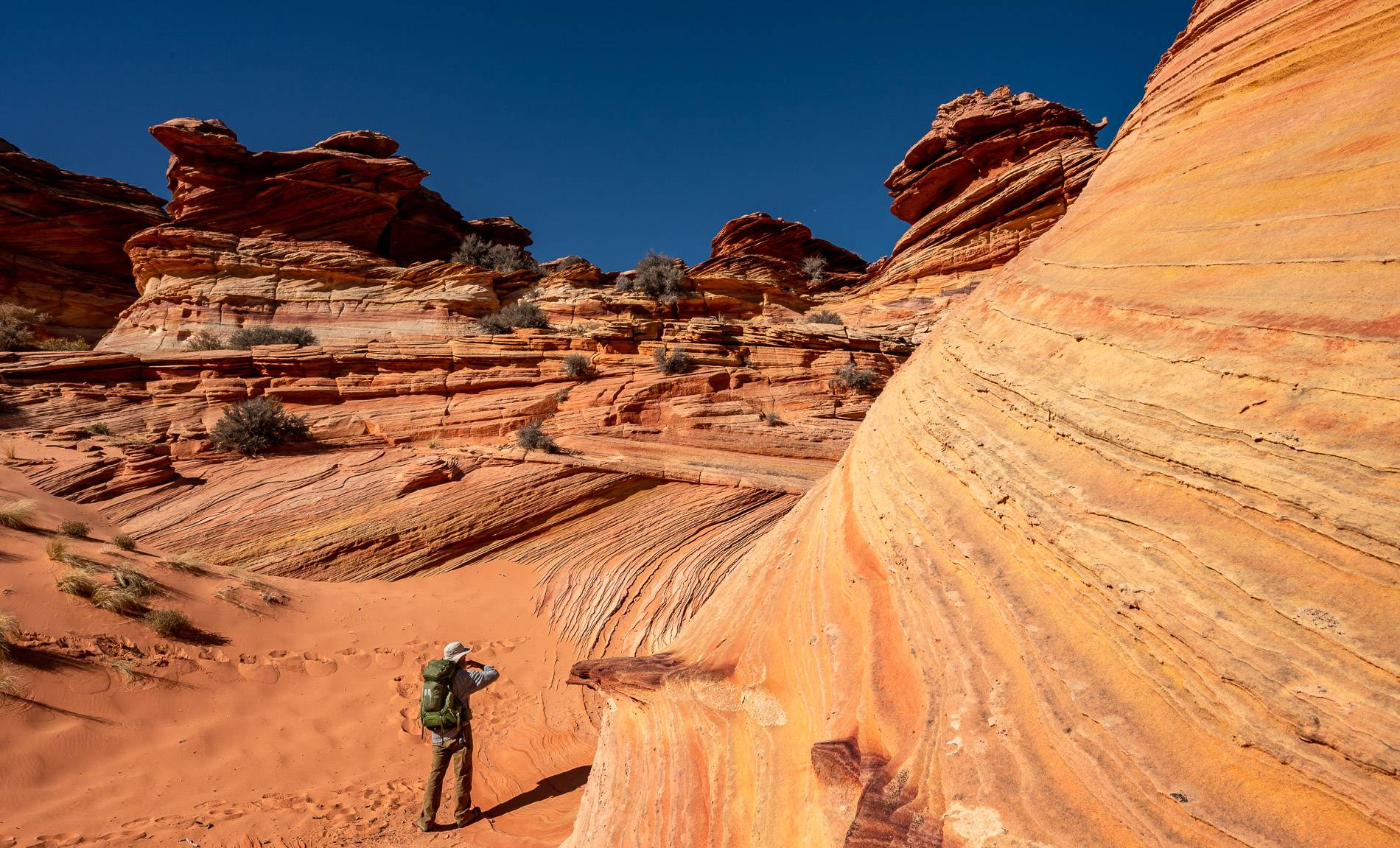 Guided or self-guided
I usually like to do hikes and exploring on my own, but my recommendation would be to hire a guide to visit South Coyote Buttes. If you don't, you'll need a high clearance 4-wheel drive vehicle and how many of you have that? You also need some experience driving in a deep sand, desert-like environment. 
Don't even think of venturing onto the sandy, rock-strewn roads without the high clearance vehicle unless you fancy a minimum $US700 tow out and countless hot hours waiting for help. One of the tow truck operators in Kanab has financed his daughter's university education by pulling people out of the situations they have found themselves in this area.
If you've chosen the self-driving option, then I think it's a very good idea to stop at the Escalante National Monument Visitor Center in Kanab to inquire about the road conditions before visiting.
John and I visited South Coyote Buttes with Deamland Safari Tours. Our guide, Shawn Turner, is incredibly knowledgeable about the flora, fauna, history, and geology and he knew all the best places to take us. We would have missed the dinosaur tracks if he hadn't pointed them out! On the drive to Coyote Buttes South, he also included a stop at the California Condor release site as we did a loop drive coming in from the south on House Rock Valley Road and exiting at the north.
Tour companies
The following are a sampling of the tour companies that offer day trips to the area.
Access to Coyote Buttes South 
John and I didn't have to worry about the logistics of accessing the Coyote Buttes South area. But we did see on the long drive out to the trailhead that you had to know what numbered road to take. Be sure to carry a good map in this part of the world.
There are three entrances to the Coyote Buttes South area off House Rock Valley Road – a bumpy, sandy north-south road that connects Highway 89 with Highway 89A. Some people say you can drive part of this road with a low clearance vehicle and that's true for a few miles from both the northern and southern ends of the House Rock Valley Road. But after that, heed the signs that tell you to use a high clearance 4X4 vehicle. I don't think the rental car company would want their car returned without the back bumper. 
The road is also a gnarly mess when it's wet and should be avoided altogether if its recently rained 0r if there is a high probability of rain or snow in the forecast. 
There is a parking lot at the Lone Tree Access Point, about 16 miles up the road from Highway 89. Don't continue without the proper high clearance vehicle from here. BLM Road 1079 heads east from here. If you're a hard-core hiker, you could walk the sandy 2.5 miles (one way) along the road to the Paw Hole entrance. But that can be hot and not a lot of fun. This is where a tour guide comes in handy as they can get you all the way to the Cottonwood Cove access area.
The Cottonwood Canyon entrance is a further 7 miles past the Paw Hole entrance.
South Coyote Buttes – Cottonwood Cove area experience
On our trip to Coyote Buttes South, we only explored the area that is easily accessible from the Cottonwood Cove trailhead – as this is where the best and most beautiful scenery is to be found. We didn't bother with Paw Hole at all. Some people visit both areas but factor a 4-hour return drive to and from Kanab plus exploring time. 
If you're with a guide, you don't really have to think about where you are in relation to the trailhead, but if you're traveling self-guided, you need to be very aware of your location. Be sure to carry either a detailed topographic map and compass, or a GPS along with offline maps from hiking apps. It will be up to you to get back to your 4X4 safely. Don't count on running into many people out here.
There are no trails per se in South Coyotes Buttes. Instead, you follow the path of least resistance, skirting the sharp tips of yuccas as you make your way towards the buttes. What you'll find in here are unique rock formations – some twisting and wave like, others like tilted layer cakes, all unique in a fabulous range of hues including pink, orange, yellow, red, and rust.
The area is truly breathtaking – like a nature history and art museum rolled into one, but alive. The place will literally blow your mind, especially if you haven't spent much time in the southwest United States. From our perch at lunch time, we could see Bryce Canyon National Park, 50 miles away to the north along with Coyote Buttes North and the location of the Wave. What we didn't see was another person.
Coyote Buttes South versus the Wave and Coyote Buttes North
If you score a permit for the Wave, then you can include a trip to Coyote Buttes North as part of your day, though according to our guide, most people visit the Wave and then leave. Coyote Buttes North covers a much smaller area than Coyote Buttes South, but it is still worth exploring. 
Coyote Buttes South is a whole other experience. It's not as popular so it's way easier to get a permit – and offers truly unique and exceptional scenery – with some of the scenery like the Wave. You likely won't see more than a few other people all day. The Wave covers a fraction of the area of Coyote Buttes South but there is a big difference; up to 64 people can visit the Wave in a day versus 20 people in Coyote Buttes South. It is also more difficult to get to so I would highly recommend factoring in the cost of a guide. It will be worth every penny.
Leave no trace
Coyote Buttes South is in a pristine but fragile landscape with no defined trails. Be sure to follow the principles of Leave No Trace, packing out what you pack in. 
Don't be that person who carves their initials in the rock formations – something we saw in several places in Buckskin Gulch. 
Be very careful around some of the paper-thin sandstone formations, as they are extremely vulnerable to breakage. Stick to the sand and slick rock wherever possible.
Don't take any mementos from your visit.
If you aren't going guided, carry a SPOT 2-way Satellite Messenger, Garmin In-Reach Mini, or Zoleo device in case of a critical emergency. There is no cell service at Coyote Buttes South.
Pack extra water and leave some to come back to in your vehicle. Take extra food, sunscreen, a sun hat, and hiking poles. Include a warm layer as the temperature plummets when the sun drops.
Plan ahead and pack out human waste in heavy duty go anywhere toilet bags that don't tear easily!
Can you camp in Coyote Buttes South?
You cannot camp in the area covered by the permit for Coyote Buttes South. We did pass a few people car camping along BLM 1079 on the way out. But you must have a high clearance vehicle to access these unmarked campsites. It's very important you leave no trace of your stay.
Where to stay in the Kanab area
We stayed at the Canyons Boutique Hotel in Kanab one night. It offers comfortable rooms and breakfast with your stay. Sego Restaurant offering an inspired menu with delicious food is also onsite. 
Another excellent option if you like glamping is Cave Lakes Canyon Ranch. It's about 7 miles from Kanab, accessed via a dirt road across from the entrance to the Moqui Cave.
The Stateline Campground is on the Arizona – Utah border on the House Rock Valley Road. It's the closest campground to South Coyote Buttes but be sure to take all the water you need. There are seven campsites available on a first-come, first-served basis along with a pit toilet and some shade structures. Camping is free. Interestingly, it is at the end of the Arizona National Scenic trail.
The White House Campground is about 43 miles east of Kanab and two miles south of Highway 89 at the end of Monument Road 751. The campground is mostly used by people as a staging campsite for trips into the Paria Canyon Vermilion Cliffs Wilderness. The campsite is open year-round and offers 7 car camping sites and 5 walk-in tent camping sites. There are vault toilets, fire rings, picnic tables and tent pads. Campsites are available on a first-come, first-served basis for $US12 per night.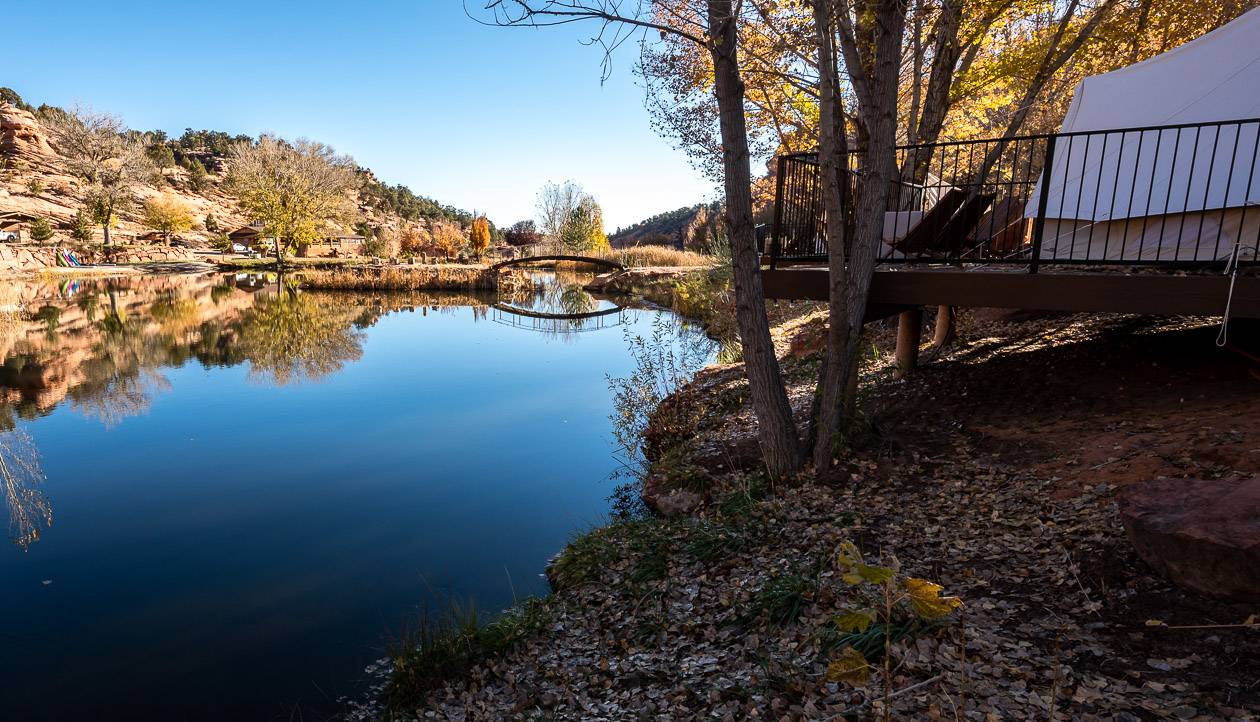 Safety first in this part of the world
You are responsible for your own safety. If you aren't traveling with a tour company that means you need to go prepared – with the right vehicle, the know how to drive it in unforgiving terrain, good maps, the ability to navigate, and a means of contacting someone if you have an emergency. Remember cell phones don't work out here. Be sure to leave your planned itinerary with a trusted family member or friend.
Carry lots of water on your hike and leave extra in your vehicle. Take extra food and plenty of sun protection. Don't count on much shade.
If rain or snow is in the forecast, postpone your trip as the roads become impassable and try for a permit on another day.
There are no marked trails in Coyote Buttes South. If you are uncomfortable with navigating on your own, hire a guide.
You are supposed to carry a printed copy of your permit with you to show a ranger if you're stopped.
Further reading on things to do and see in Utah
Thank you to Visit Utah and Visit Southern Utah for hosting me. All thoughts and opinions are mine alone.
Click on the photo to bookmark to your Pinterest boards.