5 Emails You Should Be Sending Every Guest • WebRezPro
From booking through to check-out, hotel emails are an extension of your front desk, providing information your guests need and opportunities to enhance their stay, and making them feel valued. Here are five hotel emails your guests expect… Are you sending them to every guest?
Booking Confirmation Email
Pre-arrival Email
Check-in Details / Online Check-in Email
Post-stay Thank You / Feedback Request Email
Winback Email
Let's dig a little deeper into the purpose of each type of email and what it should include. Then, keep reading to discover how a property management system like WebRezPro can automate the process of sending these important emails, saving you hours of time and ensuring every guest receives the right information at the right time.
1. Booking Confirmation Email
Whether a guest books online, by email, or by phone, it's not enough to simply provide guests with a booking confirmation number. Encourage guests to provide their email address in order to receive a booking confirmation email so they have all the details of their stay at their fingertips. 
Booking confirmation emails serve as an acknowledgment of the guest's reservation and reassurance that it was successful. They also put the onus on guests to ensure the information they have provided is correct. Booking confirmations should be sent immediately after a guest makes a booking.
What to Include: Booking confirmation emails should contain the guest contact information, reservation number, dates of stay, number of guests, number of rooms, room type, room rate, cost breakdown (including amount paid, amount owing, and taxes), cancellation policy, and terms and conditions. 
Including this information enables guests to verify their details and will decrease the number of follow-up phone calls. Remember to include your hotel name, address, and phone number as well so they know how to reach you. 
As an extension of your customer service, be sure to thank guests for their reservation and address them by name. This email also serves as a wonderful opportunity to ask guests if they have any particular preferences or special requests that you may be able to accommodate, e.g., extra pillows, cot or baby crib, a room away from the elevator, etc.
2. Pre-arrival Email
Pre-arrival emails serve a practical function but also get guests excited about their trip and set a positive tone before arrival. They are typically sent within the week before check-in. In addition to reminding guests about the details of their upcoming stay, the pre-arrival email gives your hotel an opportunity to provide additional information about your amenities and offer relevant upsells.
What to Include: The pre-arrival email should welcome guests and confirm basic details of their upcoming stay, including the arrival date, number of guests, and room type. Check-in and check-out times should also be included, as well as any check-in protocols—such as wearing a mask, observing social distancing, or reminders about current government recommendations. 
Recommending room upgrades, packages, and add-ons within this email is the perfect opportunity to offer guests ways to personalize their stay while driving hotel revenue. Read more pre-arrival email tips here.
Don't forget to let guests know you are excited to see them!
3. Check-in Details / Online Check-in Email
Much like the airline model, more and more hotels offer guests the ability to check in online. Make it easy for your guests by sending them an email with all their check-in details the day prior to or morning of their arrival (depending on your policy). This saves them from having to look up their confirmation or pre-arrival email for information. 
What to Include: To implement online check-in (also called contactless check-in), you'll need booking software that offers this capability. With WebRezPro, for example, a link in the check-in email takes guests to an online, mobile-optimized guest agreement (also known as a digital registration card) where guests can accept terms of service and input any other requested information, including photo ID, vehicle information, credit card details and a digital signature. 
Once guests have completed their online registration, a second message confirming their check-in has been approved should be sent to them. This email should include step-by-step instructions for accessing their room upon arrival, where to park, and any other pertinent information such as your property's COVID protocols.
With registration completed in advance this way, the guest simply has to swing by the front desk to pick up their room key—or, if you have keyless entry, they can bypass the desk altogether—saving time for your guests and your front desk staff.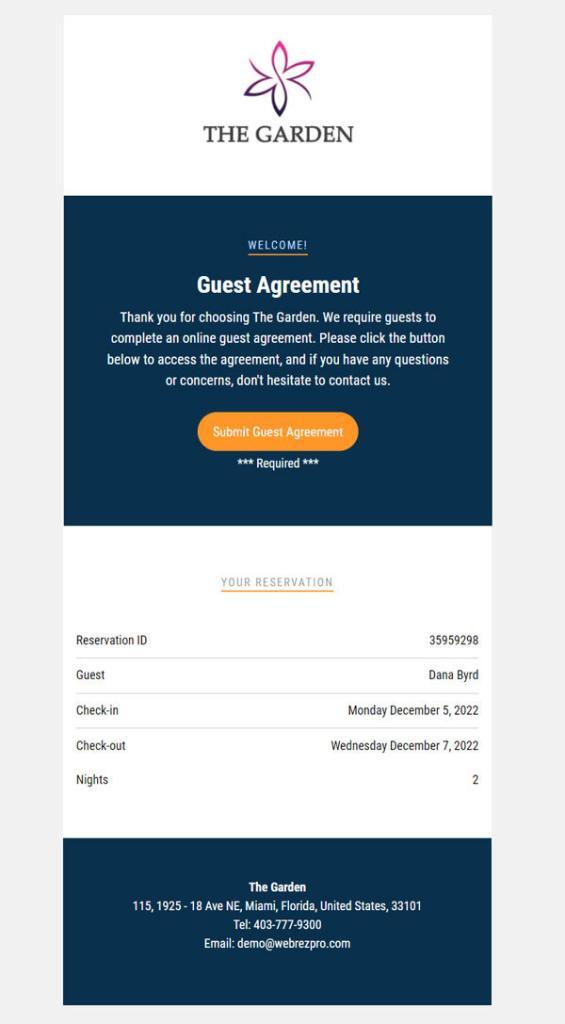 4. Post-stay Thank You / Feedback Request Email
The sales cycle doesn't end when a guest checks out. A post-stay thank you email is the finishing touch to your guest's stay experience and should be sent within three days of check-out. Think of it as a simple message (bonus points if it's from the manager) thanking the guest for their patronage and inviting them to provide feedback about their stay. If they have any complaints, this is the perfect opportunity to right any wrongs before they become a negative online review!
What to Include: In addition to including a sincere thank you and a digital check-out receipt, link to your preferred review site or an online survey to make it easy for guests to leave feedback. Why is this important? Because it gives you actionable insight into what you're doing right and what needs improvement—from a guest's perspective. Invite them to contact you directly with any complaints so that their issues can be resolved (before they're voiced online!).
5. Winback Email
After all your effort to secure a booking—from Google ads to social media—it's important you keep in touch with past guests. Guest retention is a very important part of the sales cycle since your ROAS is much higher than converting new guests from scratch (around 5X more, in fact!). You may choose to include a one-off winback email in your email flow or send out regular marketing emails to keep your hotel top of mind.
What to Include: A simple winback email should offer either a discount or special value-add to make your guest feel like a VIP. In terms of when to send the email, your hotel software should be able to give you statistics on the average timeframe it takes guests to rebook; schedule your email a month or two in advance of that average.   Other popular post-stay email subjects include special occasion promotions (think romance packages in advance of Valentine's Day, for example), guest anniversary specials, and loyalty program offers. 
Automate, Automate, Automate
Sending all these emails is overwhelming at best and impossible at worst, right? Absolutely not. The solution is email automation. This means emails can be automatically personalized and triggered based on reservation information. In other words, it couldn't be easier—especially with WebRezPro.
WebRezPro includes default email templates and allows properties to create their own templates too. Templates can be set to send automatically based on a trigger date (e.g., booking date, arrival date or departure date) and other reservation criteria like room and rate types. Such versatility ensures you can send the emails you want, when you want, to who you want, with just a little upfront work.
Alternatively, WebRezPro can integrate with your CRM to automate emails sent from your CRM using reservation information from WebRezPro. 
Because digital communication is immediate, guests expect immediate communication about their hotel stay. Make sure you're meeting guest expectations with emails for every important guest touchpoint in a way that's manageable. Contact us to learn more about how WebRezPro can automate guest communications to save you time and improve your guests' experience.