20 luxury travel gifts for her this Christmas (2022) – UK & Europe edition
It's that time of year again! Christmas present shopping can be particularly difficult sometimes, especially if the recipient appears to already have everything imaginable. But don't lose heart; with this compilation of festive gift suggestions, you can find some inspiration! We have some fantastic present ideas for the lady in your life. Spoil her this Christmas with one of the many items we've listed below.
For our other Christmas gift guides, please visit the following links:
20 luxury travel gifts for him this Christmas (2022) – US & Canada edition
20 luxury travel gifts for her this Christmas (2022) – US & Canada edition
20 luxury food treats to enjoy this Christmas (2022) – US & Canada edition
20 luxury drinks to enjoy this Christmas (2022) – US & Canada edition
20 luxury travel gifts for him this Christmas (2022) – UK & Europe edition
20 luxury food treats to enjoy this Christmas (2022) – UK & Europe edition
20 luxury drinks to enjoy this Christmas (2022) – UK & Europe edition
Thank you, and happy shopping!
The name says it all: the Onthego MM from Louis Vuitton takes care of business or shopping, with plenty of room for a busy woman's essentials. With classic Monogram canvas on one side and Monogram Reverse on the other, it is virtually two bags in one. Twin Toron top handles and two shoulder straps offer several different carry styles, for extra versatility.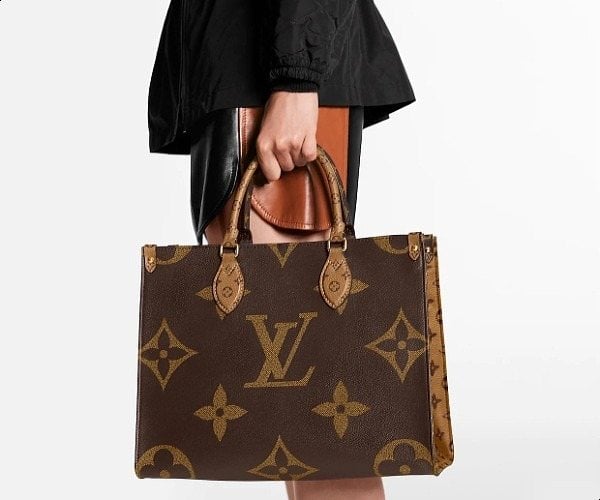 Adore Puffy Parker from Helly Hansen
This on-trend, puffer-style women's parka from Helly Hansen comes with fold-up reflectors for cold and dark winters. Snuggle up in this thigh-length, warm puffer parka with High Loft™synthetic insulation. It's perfect for those freezing days when you need maximum protection without sacrificing style. It has a soft puffy hood for your comfort and protection and Helly Hansen added fold-up reflectives because the coldest days are also dark. The exterior has a PFC-free water-repellent treatment – a win for you and the environment.
Vyne leather cleated Chelsea boot from Chatham
A new addition to Chatham's country collection, the Vyne heeled Chelsea boots are a statement twist on the classic winter boot. Expertly-crafted in Portugal from beautiful premium burnished leather in dark tan, they're a tall boot with a pointed toe, signature elastic side panels, pull-on back tabs, a leather lining and Chatham branding detail.
They also have Chatham's sole spring poron performance cushioning, which is anti-bacterial and offers maximum comfort and shock absorption, and they sit on a heeled rubber cleated sole. Polished and playful, wear these Vyne boots when you want to feel pulled-together for the dressier moments in your diary.
Bedding bundle from Ethical Bedding
A luxury bedroom calls for luxury bedding. Meet Ethical Bedding and their best-selling bedding bundle. Crafted using eucalyptus silk, it instantly uplifts any bedroom. But that's not where the benefits end – this wonder fabric will regulate your temperature better, stay fresher for longer and has the same beauty benefits as regular silk. Available in three colours currently which can be used interchangeably – a classic white, grey and wheat. Not only is their bedding better for your sleep, it also uses 30% less energy in production, 95% less water, no farmable land and zero herbicides or pesticides.
Ethical Bedding are proud winners of 'Best For The World' (BCorp 2022). Warning: it's so good you might not want to get out of bed.
Rufous 85 from Laura See London
The Rufous 85, part of the Laura See London luxury shoe collection, is the ankle boot to wear this winter, whether you are travelling abroad or staying at home.  This fabulous square toed, faux croc boot is cut low at the front to elongate the leg and allow room for jeans or trousers to sit better. The 85 mm 'blocketto' heel is the perfect heel height to transport you seamlessly from day to night. Rufous boots are available in a gorgeous burgundy or bottle green – classic, sexy and easily styled. An angled inside zip allows for an easier close and a small strip of signature 'nightlights' print adorns the back of the boot.
Laura See London shoes and boots are designed in the UK and handmade in Italy.  Each features a splash of Laura's original artwork and a dainty gold Hummingbird – the brand's motif – on the sole, representing movement, beauty and determination.  Fabulous designs that are made to last and produced sustainably in small quantities.
Return home from your travels and slip into a pair of luxury Shaffay slippers. Shaffay slippers for women bridge the gap between elegance and comfort. Designed in Britain and made to last, these fabulous slippers are created using high quality materials: the finest Nappa leather, a soft cosy pile lining and a robust rubber sole. For extra comfort there is a small hidden wedge in the heel and a memory foam inner sole. Shaffay slippers slip-on with ease while their clever design ensures they do not fall off. With wear, they will mould and adapt to your feet without losing their shape.
The colours and stylish clean lines of the Signature Collection effortlessly complement daywear, leisurewear, loungewear and sleepwear. Your Shaffays will become an essential component of your homewear wardrobe. Sign up to Shaffay's newsletter to receive an exclusive discount on your first pair of Shaffay slippers.
Atom massage gun from Hydragun
Don't let muscle soreness bring your travels down. Meet Hydragun's newest mini massage gun, the Atom. Weighing a mere 550g, the Atom still packs quite the punch with up to 8kg of force and runs up to 3200 powerful percussions per minute. With its atomic size and atomic power, the Atom is great to bring on travels, whether to help relieve muscle tension in the plane or for a quick relaxation fix after a long day out.
Relaxed Polo Neck Cashmere Sweater in Black/Snow Stripe from Loop Cashmere
Travel in comfort with this supremely soft, sustainable jumper from Loop Cashmere. Made from high-quality cashmere, this product has a longline, oversized and relaxed fit that is on trend but timeless. Chunkier ribbed trims, angled seams and front splits complete the look and make layering up extra luxurious. Dress it up with a silk midi skirt, or wear it with denim and trainers for an off-duty outfit. Whether you're out on the ski slopes or on a relaxing break, you can take this style anywhere.
The Pandora bangle from Corazon Latino
Experienced travellers will tell you that the trick to packing for a luxury trip is one versatile piece of jewellery. Something that adds the perfect finishing touch to any outfit from a bikini to a little black dress. The Pandora bangle from Corazon Latino does just that. Big and bold, it makes an impact without the need for necklace or earrings. Being sterling silver, it will cope with seawater or chlorine with nothing more than a quick rinse and buff with a cloth & its contemporary design looks as good on the beach with a bikini as it does as the statement piece alongside a little black dress and killer heels. Travel light. This is all the jewellery you'll need.
Soleil Superiéur from RéVive Skincare
Soleil Superiéur from RéVive Skincare is a luxuriously lightweight sunscreen that is ultra transparent and gives you superb in-sun protection with SPF50. From concept to inception, it took five years to perfect. This product is endorsed by the Skin Cancer Foundation. It has been granted a Seal of Approval for daily use, a sign of the product – and the brand's – commitment to developing effective sun protection.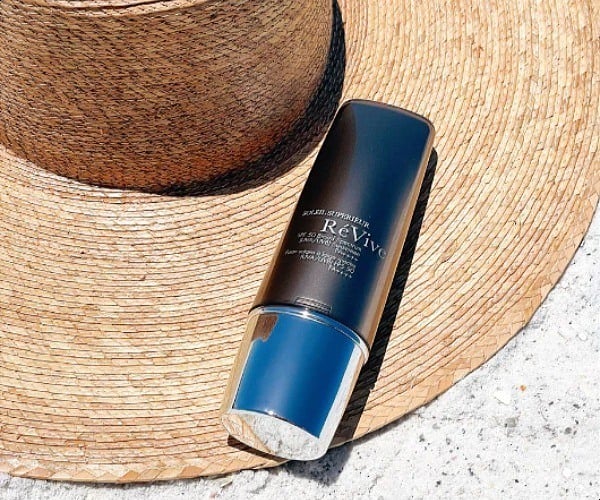 Powered by an advanced UV Defense System, this formula penetrates quickly to provide invisible SPF protection against UVB/UVA rays that can cause sunburn, cell damage and premature signs of aging caused by environmental aggressors. Bio-Renewal Technology helps renew skin and repair visible signs of aging. Ideal for extended sun exposure.
Premium skincare travel set from The Karry London
The Karry is a premium sustainable skincare travel set which offers an alternative solution to plastic containers and non-refillable travel minis. Consisting of mini recyclable glass bottles and jars it's designed for decanting skincare, so skincare lovers can continue with their routine whilst on the go. Refillable, washable, and reusable, it fits into carry-on luggage allowing you to sustainably pack and travel lightly easily!
Travel stress-free and relax with luxury wellness brand 'The Ives'. Just pop the magnesium and pure essential oil roll-on into your hand luggage to calm travel nerves, and spray on The Ives beautifully hand-blended oils at bedtime after a busy day enjoying the sights. Sooth aches, pains, restless legs and promote a deep sleep.
The Ives fuse only the purest magnesium oil with essential oils of Frankincense, Ylang Ylang and Lavender to help you relax and melt into a sumptuous restful state. Vegan, natural and handmade in Warwickshire, UK.
Luxury gift set from Ralph's Orchard
Pamper yourself or a loved one with a luxury gift set featuring a candle from our wellness collection. Each gift box contains: a candle (glass or tin) in a scent from Ralph Orchard's Wellness Collection; one botanical wax melt tablet (can be used as a wax melt, drawer scent, hanging deodoriser, or Christmas bauble!), and a wax melt of one of our bestsellers. These gift sets are vegan, eco-friendly and cruelty-free.
Choose to add an aromatherapy eye pillow. Made with 100% (unbleached) natural cotton and filled with organic lavender and organic buckwheat, and enhanced with organic lavender and eucalyptus essential oils. Ideal for relaxing, winding down, use with yoga & meditation, long flights, and very handy to travel with.
Kew Gardens Luxury Hand Care Set from The English Soap Company
Are you looking for the ideal gift for someone who loves travelling? The English Soap Company Kew Gardens Luxury Hand Care Set is absolutely perfect. Each gift set contains 1x 100ml Hand Sanitiser Spray, 1x 75ml Hand Cream and 1x 240g bar soap. Not only do these gift sets allow the recipient to indulge in one of the eight sumptuous fragrances you've chosen (such as Bergamot and Ginger or Jasmine Peach), the stunning Royal Botanic Gardens inspired giftbox adds an extra element of luxury before they've even hit their destination and also saves you gift wrapping your present.
PACMAT® picnic blankets from Rubbastuff
Inspired by experience of family life and a love of the outdoors, PACMAT picnic blankets from Rubbastuff are designed to be light and compact enough to take on any adventure. They are waterproof, machine washable and long-lasting. Whether you're heading to the beach, lounging by the pool or hiking on a mountain, these picnic blankets are easy to wash and pack up really small making them ideal to take with you anywhere. PACMATs come in their own storage bag and have embroidered button holes in the corners to allow pegging down.
Named Indy best for adventurers and described as "an endlessly practical product", PACMATs are available in a range of sizes and prints, including a mappy range covering most of the UK, making it easy to take your favourite place to sit with you. It is featured here, showing the Lake District PACMAT with high quality, detailed prints of the OS Road Series Map. Designed and made in the UK, using recycled materials, these PACMATs are made to last.
MOMENTUM True Wireless 3 earbuds from Sennheiser
Your holiday playlist just got an upgrade, thanks to the Sennheiser MOMENTUM True Wireless 3 earbuds. With new and improved Adaptive Noise Cancellation, immerse yourself in Sennheiser's signature superior sound no matter where you are. Featuring up to 28-hours of battery life and a luxuriously comfortable design, the earbuds can take you from a long-haul flight to the beach in a breeze and with three advanced microphones on each earbud ensuring absolute voice clarity, the MOMENTUM True Wireless 3 earbuds are the only travel companion you'll need.
---
IMPORTANT NOTICE:
If you are reading this article anywhere other than on A Luxury Travel Blog, then the chances are that this content has been stolen without permission.
Please make a note of the web address above and contact A Luxury Travel Blog to advise them of this issue.
Thank you for your help in combatting content theft.
---
Ted Baker watch from Acotis Jewellery
Are you looking for the perfect accessory to complete your luxury holiday look? At Acotis Jewellery they specialise in jewellery to cater to all audiences with the belief that everyone should be able to find that special piece to perfectly reflect their personality.
Discover their collection of luxury watches that are the perfect finishing touch to any outfit. Their Ted Baker Ladies Philipa Stainless Steel Silver has a delicate floral printing on the dial that matches perfectly with the stainless steel mesh band, which completes your everyday look in the most romantic way. With careful attention to detail, they've crafted a versatile timepiece with modern materials for an effortless, unrehearsed sense of confidence on the wrist.
Arlo Wolf offers a range of stylish sunglasses which are sure to be an essential on your next trip. Packed with UV4OO protection and an anti-scratch coating, these sunglasses are ready for your next adventure! Customise your sunglasses with your preferred lenses to suit your needs and jet off on your next exciting holiday.
This Christmas choose to gift a tool for everyday use. With Arlo Wolf's "Try Before You Buy" service, you can be sure that your loved one adores their present, otherwise, they can send it back to get the original pair swapped for their perfect sunglasses. They can try up to four frames at home before using their gift card to purchase the glasses of their choosing.
Travel fragrances from Molton Brown
Take your cherished fragrances wherever you go with Molton Brown's Travel Fragrance collection. Featuring discovery sets, refills and complementary travel cases, build your scent wardrobe and revive your perfume from morning to evening. Molton Brown's Travel Fragrance collection includes scents from Flora Luminare to Coastal Cypress & Sea Fennel.
Urban Decay's bestselling Naked3 Eyeshadow Palette goes mini with six all-new, universally flattering rose-hued shades made for every skin tone and mood. These vegan formula shadows have rich, high-pigment colours and finishes that go on smoothly—forget chalky or powdery— and last up to 12 hours. Get the full range of versatile nude and neutral shades in one everyday eye palette: ivory sheen, peachy champagne shimmer, dusty rose pink, mauve, grey-plum matte, and deep charcoal brown with a hint of purple. Use these ultra-blendable, velvety shadows solo or layer to create endless looks, from a monochromatic wash of colour to bold, smoky eyes.
If you represent a product that you'd like to see feature in a future article like this one, please click here to subscribe to the retailer channel of A Luxury Travel Blog's mailing list.